Exo-spin™ midi columns
Product Description
Exo-spin™ generates superior yields and higher quality whole exosomes using a unique combination of precipitation and size exclusion chromatography. No ultracentrifugation is required. No organic buffers. The Exo-spin™ kit (Cat EX01) is suitable for the preparation of pure, functional exosomes from a variety of biological fluids including cell culture media, urine, and saliva. For blood plasma and sera, Exo-spin™ blood (Cat EX02) is available. For larger volumes Exo-spin™ midi (EX04) is available.
Benefits
Exosomes purified using Exo-spin™ are suitable for a variety of downstream applications including RNA analysis, protein analysis and functional use. For large sample volumes, often required with cell culture media and urine extraction, EX01-25L offers unsurpassed economy.
Choose the right kit for your samples
The best kit to use depends on both your sample type and the downstream application. You can download a simple guide to choosing your Exo-spin™ kit here.
Product Data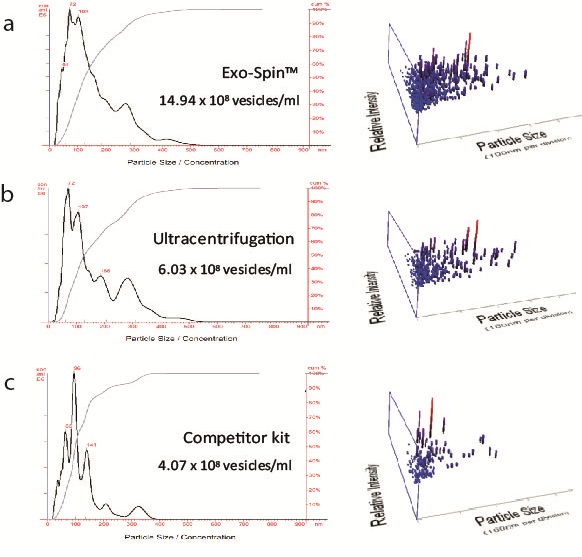 NTA measurement of samples prepared from cell culture medium (a) Exo-spin™ yields significantly higher numbers of vesicles of the expected 40-120 nm size range than alternatives including (b) ultracentrifugation (c) competitor kit. The size distribution profile obtained with Exo-spin™ most closely resembles ultra-centrifugation.
Lower rRNA contamination levels Analysis on Bioanalyzer instrument shows RNA preps (Trizol) following (d) Exo-spin™ purification from cell culture samples compared with (e) ultracentrifugation or (f) competitor kit.