Exo-spin™ columns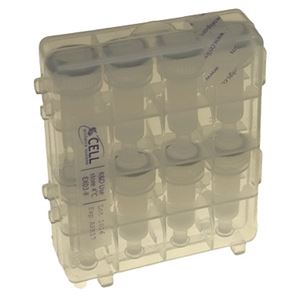 Product Description
Exo-spin™ columns are a versatile, quick and effective way to isolate and purify exosomes directly from a range of small samples (including blood sera, cell culture medium, labeled samples and samples generated by other methods which need further cleaning). All without any precipitation or extraction. Just spin!
The Exo-spin™ kit (Cat Code EX01) is suitable for the preparation of pure, functional exosomes from a variety of biological fluids including cell culture media, urine, and saliva. For blood plasma and sera, Exo-spin™ blood kit (Cat Code EX02) is available.
Benefits
Exosomes purified using Exo-spin™ are suitable for a variety of downstream applications including RNA analysis, protein analysis and functional use. For large sample volumes, often required with cell culture media and urine extraction, EX01-25L offers unsurpassed economy.
Choose the right kit for your samples
EX03 - Exo-spin™ columns provide a rapid, economical method for size exclusion purification of exosomes in 30 - 140 nm size range.
Exo-spin™ columns are suitable for a range of samples including:
1. Blood sera (a 100 μl sample contains 1011 exosomes – equivalent to approx 100 ml of conditioned media or urine).
2. Cell culture medium.
3. Further clean-up of samples purified with alternative methods including ultracentrifugation and precipitation reagents.
4. Removal of unincorporated label.
Other Exo-spin™ options
The best kit to use depends on both your sample type and the downstream application. You can download a simple guide to choosing your Exo-spin™ kit here.
Product Data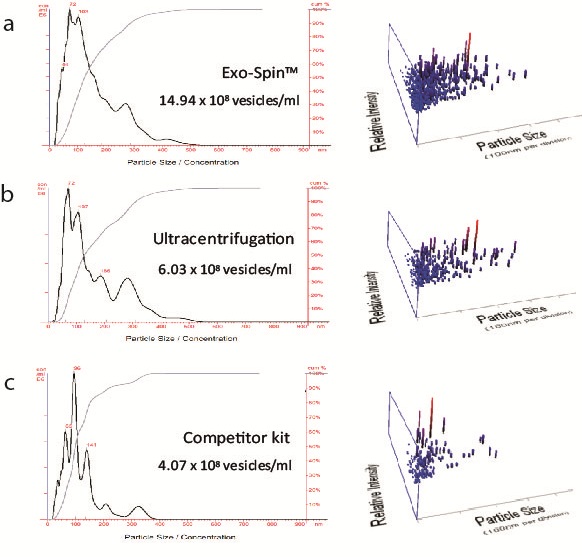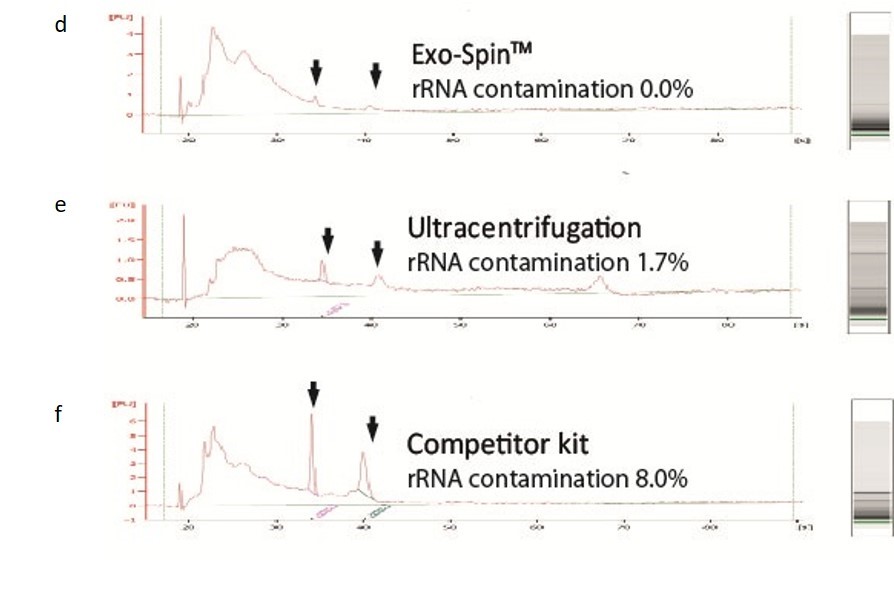 NTA measurement of samples prepared from cell culture medium (a) Exo-spin™ yields significantly higher numbers of vesicles of the expected 40-120 nm size range than alternatives including (b) ultracentrifugation (c) competitor kit. The size distribution profile obtained with Exo-spin™ most closely resembles ultra-centrifugation.
Lower rRNA contamination levels Analysis on Bioanalyzer instrument shows RNA preps (Trizol) following (d) Exo-spin™ purification from cell culture samples compared with (e) ultracentrifugation or (f) competitor kit.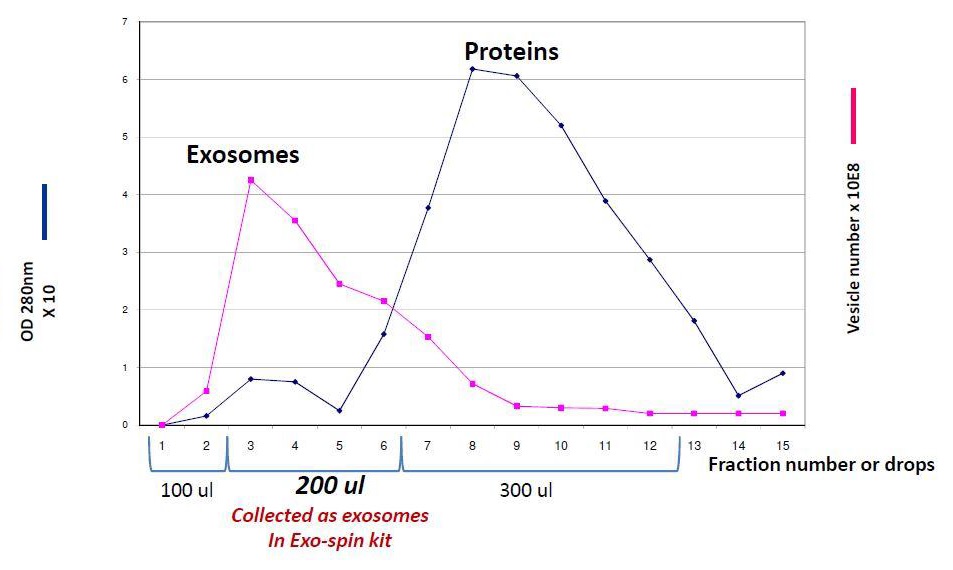 Exosomes purified with Exo-spin™ columns primarily elute in the range between 100 μl and 300 μl. Collecting this 200 μl fraction considerably enriches for exosomes over proteins and smaller molecules. Starting sample is 100 μl mouse serum.
References
Santangelo L, Giurato G, Cicchini C, Montaldo C, Mancone C, Tarallo R, Battistelli C, Alonzi T, Weisz A, and Tripodi M. The RNA-Binding Protein SYNCRIP Is a Component of the Hepatocyte Exosomal Machinery Controlling MicroRNA Sorting. (2016). Cell Reports 17(3): 799-808.
Welton JL, Webber JP, Botos LA, Jones M, Clayton A. Ready-made chromatography columns for extracellular vesicle isolation from plasma. (2015). J Extracellular Vesicles 4: 27269.

Lane RE, Korbie D, Anderson W, Vaidyanathan R, Trau M. Analysis of exosome purification methods using a model liposome system and tunable-resistive pulse sensing. (2015). Scientific Reports 5: 7639.