Human Fibronectin (1.2 mg/ml), 1 mg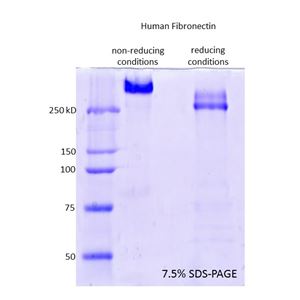 Description
Fibronectin has been purified from human plasma where it is found as a dimer and has a size of 440 - 500 kDa with two similar subunits (220 - 250 kDa) linked by two disulfide bonds.
Applications
Used as a cell culture surface coating, fibronectin has an important role in cell adhesion and attachment to extracellular matrix by interactions with collagen, heparin and other cell surface glycosaminoglycans (GAGs).
Product Details
Source

Human Plasma

Purity

>95%

pH

7

Formulation

20 mM Tris-HCl containing 0.45 M NaCl and 12% glycerol

Sterilization Method

Filtration

Sterility

No growth

Concentration

1.2 mg/ml

Storage and Stability

Store at -80°C for long-term storage. Avoid freeze-thaw cycles.

Store at 4°C for 1 month shelf life.
Protocols
Coating Procedure
Note: Use these recommendations as guidelines to determine the optimal coating conditions for your culture system. The typical concentration for surface coating with fribronectin is 1 - 5 μg/cm2.
1. Add appropriate amount of diluted Fibronectin to culture surface.
2. Incubate at room temperature for approximately 1 hour to permit binding of the Fibronectin to the surface.
3. Aspirate remaining Fibronectin using a pipet, but make sure that the pipet tip does not disturb the growth surface.
4. Plates are ready for use. They may also be stored at 2 - 10°C damp or air dried if sterility is maintained.
Documents