Orangu™ Cell Counting Solution
Product description
Orangu™ is a non-cytotoxic, highly sensitive, colorimetric assay for the determination of cell viability in cell proliferation and cytotoxicity assays. Orangu™ utilizes WST-8 to give an orange-coloured formazan dye. The amount of dye formed is directly proportional to the number of living cells. Increasing incubation periods or number of cells will lead to an increase in the amount of orange dye. Simple!
Assay principle
The assay utilizes WST-8, a highly water-soluble tetrazolium salt, which produces an orange coloured formazan dye upon reduction in the presence of an electron mediator. The amount of the formazan dye generated by dehydrogenases in the cells is directly proportional to the number of viable cells and the length of incubation.
Orangu™ relies on the activity of multiple intracellular dehydrogenases while other proliferation quantification methods rely only on the activity of the mitochondrial dehydrogenase.

Chemical reaction from WST-8 to WST-8 formazan.
Storage
Upon receipt, store the solution at 4°C. Please note that this product is light sensitive and should be protected from light until use.
Protocol
The Orangu™ assay is supplied as a ready-to-use solution and can be performed in 3 steps:
Step 1. Add neat Orangu™ solution to each well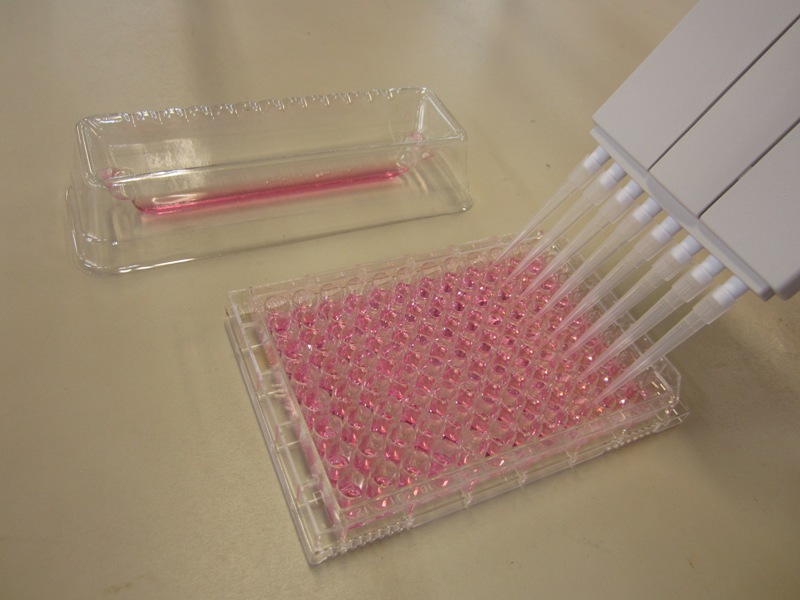 Step 2. Incubate the plate for 1 to 4 hours in a humidified incubator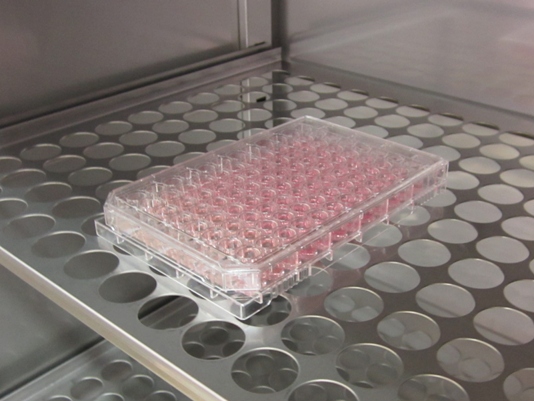 Step 3. Measure the absorbance at 450 nm using a standard microplate reader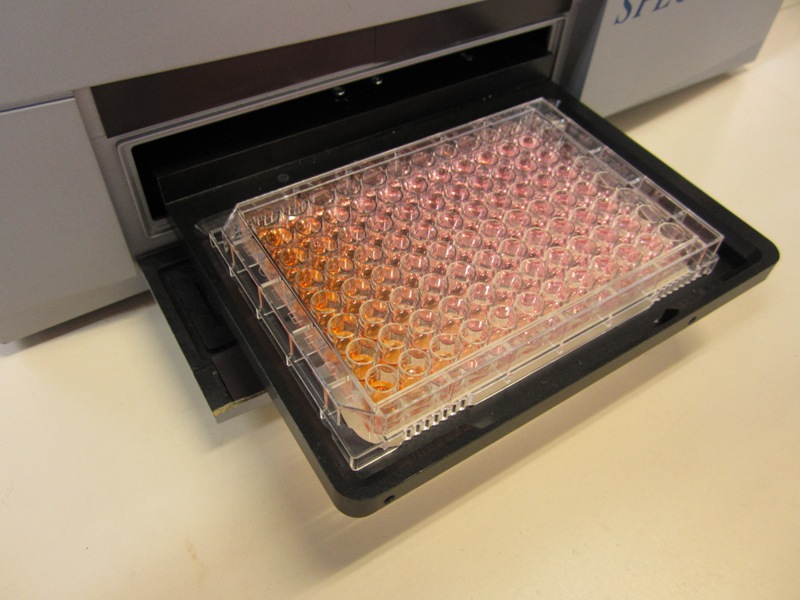 Start today! Request your free sample
To request a free sample, contact our team at order@cellgs.com.
Product data
Comparative data
Orangu™ demonstrates higher levels of sensitivity than commonly used alternatives MTT, XTT, MTS or WST-1, guaranteeing that even small cell number differences are detected.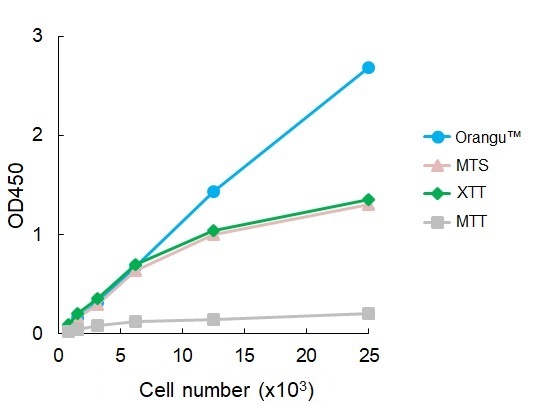 Cell proliferation assay comparing Orangu™ (blue), MTS (pink), XTT (green), and MTT (grey). Increasing numbers of HeLa cells were incubated in MEM media containing FCS and the different proliferation reagents for 2 hours. Compared to the other cell counting reagents, Orangu™ is linear over a broader range, demonstrating accurate cell quantification.
Cytotoxicity data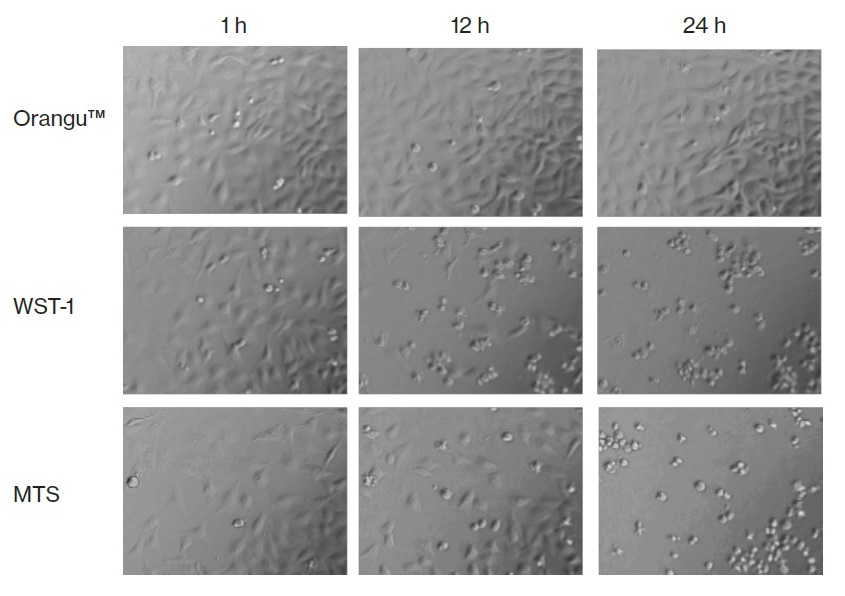 Cell viability study on HeLa cells (5000 cells/well) comparing the toxicity of Orangu™, WST-1 and MTS assays at different time points (1, 12 and 24 hours). Orangu™ is the only non-toxic assay as viable cells are clearly visible up to 24 hours. In contrast, in both the WST-1 and MTS assay, only round non-viable cells are observed at the same time point.
Standard curves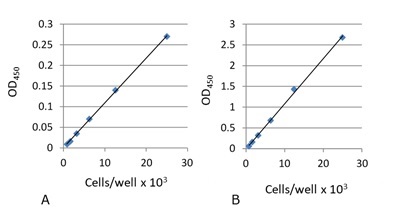 Standard curves generated for (A) HL60 and (B) HeLa cells, which
were incubated in MEM media containing 10% FBS.
Citations
Blum L, Geisslinger G, Parnham MJ, Grünweller A, Schiffmann S. (2020). Natural antiviral compound silvestrol modulates human monocyte-derived macrophages and dendritic cells. J Cell Mol Med DOI: 10.1111/jcmm.15360.
Le-Trilling VTK, Becker T, Nachshon A, Stern-Ginossar N, Schöler L, Voigt S, Hengel H, Trilling M. (2020). The Human Cytomegalovirus pUL145 Isoforms Act as Viral DDB1-Cullin-Associated Factors to Instruct Host Protein Degradation to Impede Innate Immunity. Cell Reports 18;30(7):2248-2260.e5.
Niknamian S. (2019). Fluoxetine can inhibit coxsackievirus-B4 E2 in vitro and in vivo. Antiviral Research 159:130-133.
Benkahla MA, Alidjinou EK, Sane F, Desailloud R, Hober D. (2018). Fluoxetine can inhibit coxsackievirus-B4 E2 in vitro and in vivo. Antiviral Research 159:130-133.
Lutter AH, Scholka J, Richter H, Anderer U. (2017). Applying XTT, WST-1, and WST-8 to human chondrocytes: A comparison of membrane-impermeable tetrazolium salts in 2D and 3D cultures. Clinical Hemorheology and Microcirculation 67(3-4):327-342.
Product documents