Vandetanib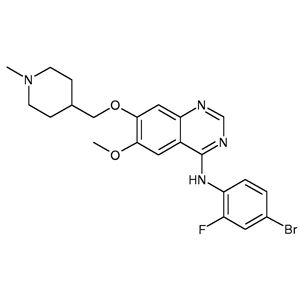 Exact Amount™
The mg quantity of material provided in the smallest pack size for this product is specified on the vial label to two decimal places. This reduces concentration variation and ensures reproducibility in your experiments.
Activity
Vandetanib is an antagonist of VEGFR and EGFR families. Specifically inhibits kinase activity of Flk-1. It is also an inhibitor of Flt-4. Vandetanib is not sensitive to PDGFR beta, Flt1, Tie-2 and FGFR1, while almost has no activity against MEK, CDK2, c-Kit, erbB2, FAK, PDK1, Akt and IGF-1R.
Effect
Vandetanib has been shown to influence in the osteoblast differentiation process in-vitro.
Alternative Names
Caprelsa, Zactima, ZD6474
N-(4-bromo-2-fluorophenyl)-6-methoxy-7-((1-methylpiperidin-4-yl)methoxy)quinazolin-4-amine
References
1. Wedge, SR., et al. 2002. Cancer Res. 62(16): 4645-4655. PMID: 12183421
2. Arbab, AS. 2012. Histol Histopathol. 27(5): 549-557. PMID: 22419019
3. Alemán, JO. et al. 2014. Endocr Relat Cancer. 21(3): R247-259. PMID: 24478055
Product Details
Formula
C22H24BrFN4O2
Molecular Weight

475.35

CAS Number

443913-73-3

Purity

>99%

Solubility

DMSO, ethanol

Stability and Storage

Stable at -20°C. Keep away from direct sunlight.