Y-27632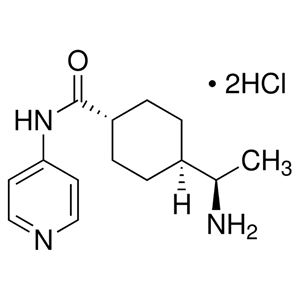 Activity
Y-27632 dihydrochloride is a water-soluble Rho-associated protein Kinase (ROCK) inhibitor.
Effect
Y-27632 increases the cloning efficiency of human embryonic stem cells (hESC). Enables the long term expansion of embryonic stem cells (ESC) with single cell passage. hESC treated with Y-27632 in a serum-free medium were consistently differentiated into many cell types, including neurons, muscle cells and hepatocytes.
Alternative Names
trans-4-[(1R)-1-Aminoethyl]-N-4-pyridinylcyclohexanecarboxamide dihydrochloride
References
1. Uehata, M., et al. 1997. Nature. 389: 990-994. PMID: 9353125
2. Itoh, K., et al. 1999. Nat. Med. 5: 221-225. PMID: 9930872
3. Davies, S.P., et al. 2000. Biochem. J. 351: 95-105. PMID: 10998351
Product Details
Formula
C14H21N3O.2HCl.H2O
Molecular Weight

338.3

CAS Number

146986-50-7

Purity

>99%

Solubility

Water

Stability and Storage

Stable at -20°C. Keep away from direct sunlight.
Citations
Vira Iefremova, George Manikakis, Olivia Krefft, Ammar Jabali, Kevin Weynans, Ruven Wilkens, Fabio Marsoner, Bjorn Brandl, Franz-Josef Muller, Philipp Koch, and Julia Ladewig. An Organoid-Based Model of Cortical Development Identifies Non-Cell-Autonomous Defects in Wnt Signaling Contributing to Miller-Dieker Syndrome. (2017) Cell Reports. 19: 50-59.