LY294002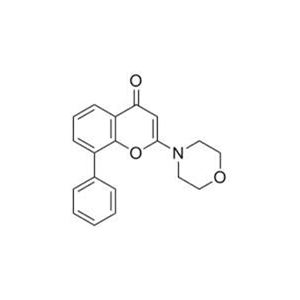 Activity
LY294002 shows a highly selective inhibitor of PI3K in-vivo. LY294002 can transfer cells to specific inhibition of PI3K, inhibition of PI3K/Akt signaling pathways, including inhibition of common Akt phosphorylation.
Effect
LY294002 inhibits cell proliferation of choroidal melanoma OCM-1 cells. In mouse embryonic stem cells, LY294002 prevents self-renewal by inhibiting LIF2.
Alternative Names
LY 294002, LY-294002
2-Morpholin-4-yl-8-phenylchromen-4-one, 2-(4-Morpholinyl)-8-phenyl-4H-1-benzopyran-4-one
References
1. Gharbi, SI., et al. 2007. Biochem J. 404(1): 15-21. PMID: 17302559
Product Details
Formula
C19H17NO3
Molecular Weight

307.34

CAS Number

154447-36-6

Purity

>99%

Solubility

DMSO, ethanol

Stability and Storage

Stable at -20°C. Keep away from direct sunlight.