Trichostatin A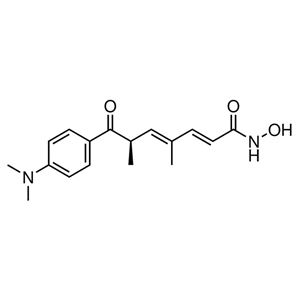 Exact Amount™
The mg quantity of material provided in the smallest pack size for this product is specified on the vial label to two decimal places. This reduces concentration variation and ensures reproducibility in your experiments.
Activity
Trichostatin A is a potent and specific inhibitor of histone deacetylase (HDAC).
Effect
HDAC is overexpressed in a variety of cancers and is closely correlated with oncogenic factors.
Alternative Names
TSA
(2E,4E,6R)-7-(4-(Dimethylamino)phenyl)-N-hydroxy-4,6-dimethyl-7-oxo-2,4-heptadienamide
References
1. Vanhaecke, T., et al. 2004. Curr Med Chem. 11(12): 1629-1643. PMID: 15180568
Product Details
Formula
C17H22N2O3
Molecular Weight

302.37

CAS Number

58880-19-6

Purity

>98%

Solubility

DMSO

Stability and Storage

Stable at -20°C. Keep away from direct sunlight.