SB216763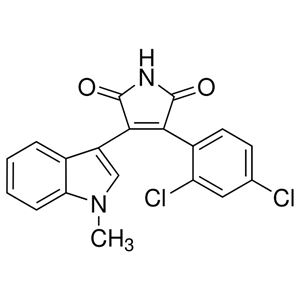 Exact Amount™
The mg quantity of material provided in the smallest pack size for this product is specified on the vial label to two decimal places. This reduces concentration variation and ensures reproducibility in your experiments.
Activity
SB216763 is a potent, selective, and cell permeable glycogen synthase kinase-3 (GSK-3) inhibitor. It competes with ATP and potently inhibits the activity alpha and beta isozymes of GSK-3. GSK-3 is a serine/threonine protein kinase that is inhibited by an assortment of extracellular stimuli including insulin, growth factors, cell specification factors, and cell adhesion.
Effect
SB216763 protects both central and peripheral nervous system neurones in culture from death induced by reduced PI 3-kinase pathway activity. Treatment of primary neural progenitor cells with SB216763 resulted in an increase in the percentage of TuJ1-positive immature neurons, suggesting an inhibitory role of GSK3 in embryonic neurogenesis. It stimulates glycogen synthesis in Chang human liver cells. SB216763 treatment reduces cell viability in a dose-dependent manner, and leads to significant increase in apoptosis due to the specific down regulation of GSK-3 beta.
Alternative Names
SB-216763, SB 216763
3-(2,4-Dichlorophenyl)-4-(1-methyl-1H-indol-3-yl)-1H-pyrrole-2,5-dione
References
1. Cross, DA., et al. 2001. J Neurochem. 77(1): 94-102. PMID: 11279265
2. Gross, ER., et al. 2008. Am J Physiol Heart Circ Physiol. 294(3): H1497-1500. PMID: 18223186
3. Ahn, J., et al. 2014. Stem Cells Dev. 23(10): 1121-1133. PMID: 24397546
4. Lee, CL., et al. 2014. Radiat Res. 181(5): 445-451. PMID: 24720754
Product Details
Formula
C19H12Cl2N2O2
Molecular Weight

371.22

CAS Number

280744-09-4

Purity

>98%

Solubility

DMSO

Stability and Storage

Stable at -20°C. Keep away from direct sunlight.