Hydrogel Production Service
Hydrogel design and production service. Why? Because different cells have different requirements around charge, elasticity and functionalisation. Reliable, simple, defined, and tunable. PeptiGels® are synthetic self-assembling peptide hydrogels (SAPHs) that provide a canvas for 3D cell culture and bioprinting. PeptiGels® have been independently validated against numerous cell lines (over 40 and counting). PeptiGel® hydrogel's fully-defined components enable consistent product quality and reproducible results. This provides a tailored and better alternative to traditional animal-derived hydrogels.
PeptiGel® can be manufactured to GMP.

The chemistry, mechanical and bio-functional properties of PeptiGels can be tuned to create bespoke products to suit your cells' needs. This includes functionalizing PeptiGels® with peptide sequences from collagen (GFOGER), fibronectin (RGD), & laminin (IKVAV or YIGSR). We can also tailor the material properties to precisely fit your requirements for a wide range of application areas, including cell therapies, drug delivery and high-throughput screening.
With PeptiGel, functionalizing peptides and proteins are designed with a hydrogel peptide tail. Consequently, they get directly incorporated into the peptide stack tightly binding them right into the hydrogel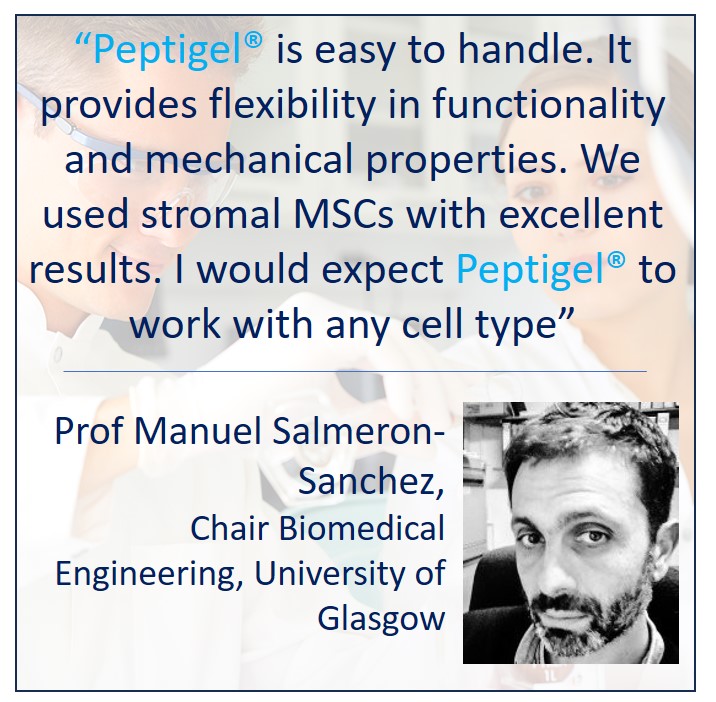 Design steps.
Tell us which types of cells the hydrogel is for
We will advise on the best base PeptiGel
Add any peptides from those available or specify your own
Add any proteins
The process typically takes 6-12 weeks.
Please contact us for details