PODS® Human CDNF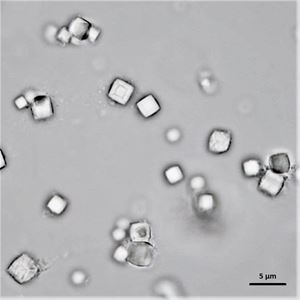 PODS® Technology
PODS® proteins are made using an insect cell expression system in which the active protein is co-expressed alongside polyhedrin carrier protein. Polyhedrin forms microcrystals within insect cells which specifically capture the active protein to form a co-crystal complex. The active protein is captured in its nascent, natively folded form with limited scope for proteolytic degradation. Consequently, excellent levels of bioactivity are observed. The PODS® co-crystals provide a sustained release mechanism and can be used to functionalize surfaces. For further details, please refer to the
PODS® Technology
page.
Product Description
The product contains the polyhedrin protein co-crystalized with Human CDNF. Cerebral Dopamine Neurotrophic Factor (CDNF) and MANF (mesencephalic-astrocyte-derived neurotrophic factor) are structural homologues and share 62% amino acid (aa) identity. Furthermore, CDNF is highly conserved across species. It shares 80%, 84%, 90% and 92% aa identity with mouse, rat, equine and bovine CDNF, respectively. Like MANF and GDNF, CDNF is expressed in brain, neuronal and certain non-neuronal tissues. It has been shown to promote survival, growth and function of dopamine-specific neurons (DNs) in vitro. Additionally, in rat Parkinson's disease models that rely on 6-hydroxydopamine (6-OHDA)-induced degeneration of DNs, CDNF can also promote rescue and restoration of DNs in the substania nigra in vivo.
Usage Recommendation
PODS® co-crystals provide a depot of proteins which are steadily secreted. It has been estimated that the biological activity of 50 million PODS® co-crystals generates the same peak dose as 3.3 µg of standard recombinant protein. However, at 5 days following the start of seeding the PODS® co-crystals, there are more than 50% of these peak levels still present in the culture system. Ultimately, the amount of PODS® co-crystals that is optimal for a particular experiment should be determined empirically. Based on previous data, we suggest using 50 million PODS® co-crystals in place of 3.3 µg of standard growth factor as a starting point."
To control for cross-reactivity with cells or as a negative control, we recommend using PODS® growth factors alongside PODS® Empty crystals, as the latter do not contain or release cargo protein.
Animal-Free
This product is produced with no animal derived raw products. All processing and handling employs animal free equipment and animal free protocols.
AA Sequence
MADVAGTSNR DFRGREQRLF NSEQYNYNNS KNSRPSTSLY KKAGFQGQEA GGRPGADCEV CKEFLNRFYK SLIDRGVNFS LDTIEKELIS FCLDTKGKEN RLCYYLGATK DAATKILSEV TRPMSVHMPA MKICEKLKKL DSQICELKYE KTLDLASVDL RKMRVAELKQ ILHSWGEECR ACAEKTDYVN LIQELAPKYA ATHPKTEL
Alternative Names
Cerebral Dopamine Neurotrophic Factor, Conserved Dopamine Neurotrophic Factor, Arginine-Rich, Mutated In Early Stage Tumors-Like 1, ARMET-Like Protein 1, ARMETL1
Research Use Only
This product is for Research Use Only.
Product Details
Length

209 aa

Molecular Weight

23.7 kDa

Structure

Monomer

Source

Spodoptera frugiperda (Sf9) cell culture

Accession Number

Q49AH0

Endotoxin Level

<0.06 EU/ml as measured by gel clot LAL assay

Formulation

PODS® were lyophilized from a volatile solution

Reconstitution

PODS® co-crystals may be reconstituted at 200 million co-crystals/ml in sterile PBS. 20% glucose has a buoyant density closer to PODS® co-crystals and can be useful for aliquoting.

PODS® co-crystals are highly stable when stored in aqueous solution (pH range 6 - 8).

Stability and Storage

Upon receipt, store at 4°C. PODS® co-crystals are stable for at least 1 year when dry and 6 months when resuspended.
References
Fasséli Coulibaly, Elaine Chiu, Keiko Ikeda, Sascha Gutmann, Peter W. Haebel, Clemens Schulze-Briese, Hajime Mori, and Peter Metcalf. The molecular organization of cypovirus polyhedra. (2007) Nature. 446: 97-101.
Rey FA. Virology: Holed up in a natural crystal. (2007) Nature. 446: 35-37.
Mori H. Immobilization of Bioactive Growth Factors into Cubic Proteinous Microcrystals (Cypovirus Polyhedra) and Control of Cell Proliferation and Differentiation. (2010) NSTI-Nanotech. 3: 222-225.
Satoshi Abe, Hiroshi Ijiri, Hashiru Negishi, Hiroyuki Yamanaka, Katsuhito Sasaki, Kunio Hirata, Hajime Mori, and Takafumi Ueno. Design of Enzyme-Encapsulated Protein Containers by In-Vivo Crystal Engineering. (2015) Advanced Materials. 27(48): 7951-7956.