5-Azacytidine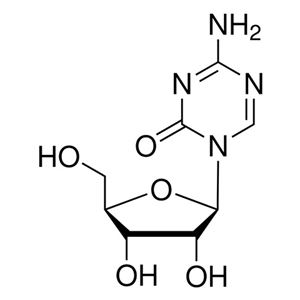 Activity
5-Azacytidine is an epigenetic modifier, a potent growth inhibitor and a cytotoxic agent.
Effect
5-Azacytidine acts as a demethylating agent by inhibiting DNA methyltransferase (DNMT), forming covalent adducts with cellular DNMT1 depleting enzyme activity. This small molecule enhances differentiation to cardiomyocytes from human embryonic stem cells. 5-Azacytidine also increases reprogramming efficiency of mouse fibroblasts to pluripotent stem cells.
Alternative Names
5-AzaC, Ladakamycin, NSC 103-627, NSC 102816, U 18496, WR 183027, Zcyd
4-Amino-1-[(2R,3R,4S,5R)- 3,4-dihydroxy-5-(hydroxymethyl)oxolan-2-yl]-1,3,5- triazin-2-one
References
1. Kusaba, H., et al.1999. Eur J Biochem. 262(3): 924-932. PMID: 10411657
2. Broday, L., et al.1999. Mol Cell Biol. 19(4): 3198-3204. PMID: 10082586
3. Yoon, BS., et al. 2006. Differentiation. 74(4): 149-159. PMID: 16683985
4. Mikkelsen, TS., et al. 2008. Nature. 454(7200): 49-55. PMID: 18509334
Product Details
Formula
C8H12N4O5
Molecular Weight

244.2

CAS Number

320-67-2

Purity

>98%

Solubility

DMSO

Stability and Storage

Stable at -20°C. Keep away from direct sunlight.