A769662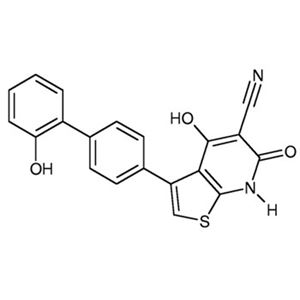 Exact Amount™
The mg quantity of material provided in the smallest pack size for this product is specified on the vial label to two decimal places. This reduces concentration variation and ensures reproducibility in your experiments.
Activity
A769662 is a potent, reversible activator of AMP-activated protein kinase (AMPK). It activates beta1-containing AMPK complexes, but induces glucose uptake via a PI3 kinase-dependent pathway.
Effect
A769662 inhibits 3T3-L1 adipocyte differentiation and may be used to treat obesity. It also inhibited the function of the 26S proteasome via an AMPK-independent mechanism.
Alternative Names
A-769662
6,7-Dihydro-4-hydroxy-3-(2'-hydroxy[1,1'-biphenyl]-4-yl)-6-oxo-thieno[2,3-b]pyridine-5-carbonitrile
References
1. Göransson, O., et al. 2007. J. Biol. Chem. 282: 32549-32560. PMID: 17855357
2. Treebak, J.T., et al. 2009. Am. J. Physiol. Cell Physiol. 297: 1041-1052. PMID: 19657063
3. Benziane, B., et al. 2009. Am. J. Physiol. Cell Physiol. 297: 1554-1566. PMID: 19828836
4. Rajamohan, F., et al. 2010. Protein Expr. Purif. 73: 189-197. PMID: 20451617
Product Details
Formula
C20H12N2O3S
Molecular Weight

360.39

CAS Number

844499-71-4

Purity

>99%

Solubility

DMSO, ethanol

Stability and Storage

Stable at -20°C. Keep away from direct sunlight.