ALK5 Inhibitor II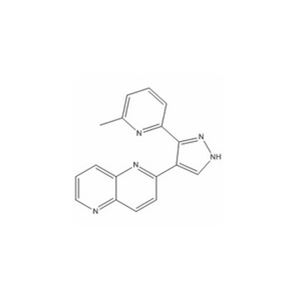 Exact Amount™
The mg quantity of material provided in the smallest pack size for this product is specified on the vial label to two decimal places. This reduces concentration variation and ensures reproducibility in your experiments.
Activity
ALK5 Inhibitor II is a cell permeable, potent, selective and ATP-competitive inhibitor of TGF-β RI kinase (IC50 = 23 nM, 4 nM and 18 nM for binding, auto-phosphorylation and cellular assay in HepG2 cells of TGF-β RI kinase, respectively). TGF-β RI (ALK5) Inhibitor II affects a panel of 9 closely related kinases including p38 MAPK.
Effect
ALK5 can replace Sox2 for generation of induced pluripotent stem cells (iPSC).
Alternative Names
TGF-beta RI Kinase Inhibitor II, TGF beta RI Kinase Inhibitor II, RepSox, 2-(3-(6-methylpyridine-2-yl)-1H-pyrazol-4-yl)-1,5-naphthyridine
References
1. Gellibert, F., et al. 2004. J Med Chem 47: 4494-4506. PMID: 15317461
2. Ichida, J.K., et al. 2009. Cell Stem Cell 5: 491-503. PMID: 19818703
Product Details
Formula
C17H13N5
Molecular Weight

287.32

CAS Number

446859-33-2

Purity

>98%

Solubility

DMSO

Stability and Storage

Stable at -20°C. Keep away from direct sunlight.