BIRB796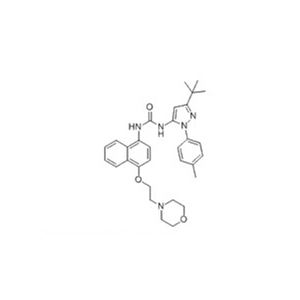 Exact Amount™
The mg quantity of material provided in the smallest pack size for this product is specified on the vial label to two decimal places. This reduces concentration variation and ensures reproducibility in your experiments.
Activity
BIRB796 is a protein kinase inhibitor of p38 MAPK. BIRB796 has high picomolar affinity for p38 MAP kinase and low nanomolar inhibitory activity against TNF-alpha in THP-1 cell culture. The p38 inhibitor BIRB796 binds tightly to ABL(T315I) and inhibits the BMS-354825 and imatinib-resistant ABL(T315I) kinase.
Effect
BIRB796 has been used as part of the naive human stem cell (NSHM) medium to create naive state human cells.
Alternative Names
Doramapimod, BIRB-796, BIRB 796, 285983-48-4, S1574_Selleck, Kinome_2137, 1kv2, UNII-HO1A8B3YVV, Doramapimod (USAN/INN)
1-(5-tert-Butyl-2-p-tolyl-2H-pyrazol-3-yl)-3-[4-(2-morpholin-4-yl-ethoxy)naphthalen-1-yl]urea
References
1. Gafni, O., et al. 2013. Nature. 504(7479): 282-286. PMID: 24172903
Product Details
Formula
C31H37N5O3
Molecular Weight

527.66

CAS Number

285983-48-4

Purity

>99%

Solubility

DMSO, ethanol

Stability and Storage

Stable at -20°C. Keep away from direct sunlight.