Cyclosporin A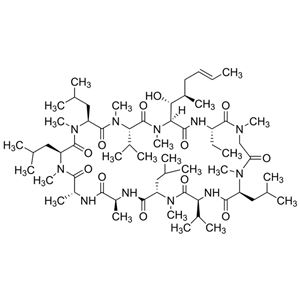 Activity
Cyclosporin A is a non-polar cyclic oligopeptide metabolite. It possesses potent immunosuppressive properties, affecting primarly T-lymphocytes. Cyclosporin A is the primary tool used to prevent rejection following solid organ and/or bone marrow transplantation.
Effect
Cyclosporin A inhibits phosphatase activity of calcineurin. This small molecule also inhibits formation and opening of the mitochondrial permeability transition pore (MPTP).
Alternative Names
Cyclosporine, Antibiotic S 7481F1, Ciclosporin A, Ramihyphin A, CsA, Sandimmune
(3S,6S,9S,12R,15S,18S,21S,24S,30S,33S)-30-ethyl-33-[(E,1R,2R)-1-hydroxy-2-methylhex-4-enyl]-1,4,7,10,12,15,19,25,28-nonamethyl-6,9,18,24-tetrakis(2-methylpropyl)-3,2
References
1. Anastasia, L., et al. 2010. Cell Death Diff. 17(8): 1230-1237. PMID: 20168332
2. Woillard, J., et al. 2014. Br J Clin Pharmacol. epub. PMID: 24698009
Product Details
Formula
C62H111N11O12
Molecular Weight

1202.61

CAS Number

59865-13-3

Purity

>99%

Solubility

DMSO, ethanol

Stability and Storage

Stable at -20°C. Keep away from direct sunlight.