Dasatinib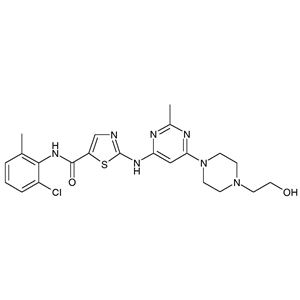 Activity
Dasatinib is a novel, potent and multi-targeted inhibitor that targets Abl, Src and c-Kit.
Effect
Dasatinib treatment inhibits SRC signaling, decreases growth, and induces cell cycle arrest and apoptosis in a subset of thyroid cancer stem cells.
Alternative Names
BMS-354825, Sprycel
N-(2-chloro-6-methylphenyl)-2-(6-(4-(2-hydroxyethyl)piperazin-1-yl)-2-methylpyrimidin-4-ylamino)thiazole-5-carboxamide
References
1. Ma, t., et al. 2013. Circ Res. 112(3): 562-574. PMID: 23371904
2. Dos Santos, C., et al. 2013. Blood. 122(11): 1900-1913. PMID: 23896410
Product Details
Formula
C22H26CIN7O2S
Molecular Weight

488.01

CAS Number

302962-49-8

Purity

>99%

Solubility

DMSO

Stability and Storage

Stable at -20°C. Keep away from direct sunlight.