Decitabine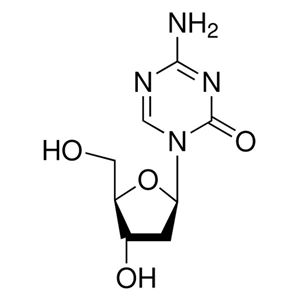 Exact Amount™
The mg quantity of material provided in the smallest pack size for this product is specified on the vial label to two decimal places. This reduces concentration variation and ensures reproducibility in your experiments.
Activity
Decitabine is a potent inhibitor of DNA methylation in different kinds of cells. Decitabine has been reported to cause phosphorylation inhibition of 2'-deoxycytidine in certain cells and the incorporation of 2'-deoxycytidine into DNA.
Effect
Experiments have shown that this compound induces changes in the differentiated state of cultured mouse embryo cells and additionally inhibits DNA methyltransferase. DNA methylation has been noted to be important in determining apoptotic susceptibility to histone deacetylase inhibitors, and its prevention can cause gene silencing and transcriptional repression. Other studies suggest that cell exposure to Decitabine causes a change in replication timing, reactivation of repressed genes, and decondensation of heterochromatin.
Alternative Names
5-Aza-2'-deoxycytidine, 5-Aza-dC, DAC, Dezocitidine, AzadC, NSC-127716
4-amino-1-[(2R,4S,5R)-4-hydroxy-5-(hydroxymethyl)oxolan-2-yl]-1,3,5-triazin-2-one
References
1. Valente, S., et al. 2014. J Med Chem. 57(3): 701-713. PMID: 24387159
2. Saunthararajah, Y. 2013. Hematology Am Soc Hematol Educ Program. 2013: 511-521. PMID: 24319226
Product Details
Formula
C8H12N4O4
Molecular Weight

228.21

CAS Number

2353-33-5

Purity

>99%

Solubility

DMSO

Stability and Storage

Stable at -20°C. Keep away from direct sunlight.