Dexamethasone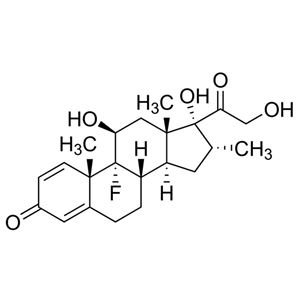 Activity
Dexamethasone is a potent synthetic member of the glucocorticoid class of steroid drugs that has anti-inflammatory and immunosuppressant properties. Dexamethasone is used to treat many inflammatory and autoimmune conditions, such as rheumatoid arthritis and bronchospasm.
Effect
Dexamethasone inhibits induction of nitric oxide synthase. Dexamethasone reduces levels of activated NF-kappaB in immature dendritic cells (DCs) and inhibits differentiation into mature DCs. This biomolecule induces differentiation of human mesenchymal stem cells (MSCs). It also induces autophagy in acute lymphoblastic leukemia (ALL) cell lines.
Alternative Names
Dex
(11β,16α)-9-Fluoro-11,17,21-trihydroxy-16-methylpregna-1,4-diene-3,20-dione, 9α-Fluoro-16α-methyl-11β,17α,21-trihydroxy-1,4-pregnadiene-3,20-dione
References
1. Xiao, Y., et al. 2010. J Tissue Eng Regen Med. 4(5): 374-386. PMID: 20058244
2. Ankrum, JA., et al. 2014. Sci Rep. 4: 4645. PMID: 24717973
Product Details
Formula
C22H29FO5
Molecular Weight

392.47

CAS Number

50-02-2

Purity

>98%

Solubility

DMSO

Stability and Storage

Stable at -20°C. Keep away from direct sunlight.