Dorsomorphin Dihydrochloride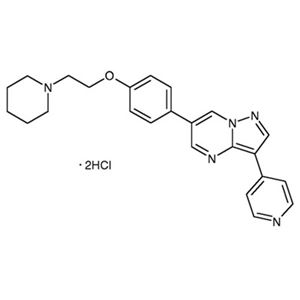 Dorsomorphin Dihydrochloride
Exact Amount™
The mg quantity of material provided in the smallest pack size for this product is specified on the vial label to two decimal places. This reduces concentration variation and ensures reproducibility in your experiments.
Activity
Dorsomorphin is a BMP pathway inhibitor, which inhibits bone morphogenetic protein type 1 receptors ACTR-I (ALK2), BMPR-IA (ALK3), and BMPR-IB (ALK 6). Dorsomorphin, also named as AMPK Inhibitor, has also been shown to play role as a potent and selective inhibitor of AMPK, induced by AICAR and metformin.
Effect
Dorsomorphin promotes cardiomyogenesis in mouse embryonic stem cells (ESC) and induces autophagy in cancer cell lines via a mechanism independent of AMPK inhibition.
Alternative Names
AMPK Inhibitor I, BML-275, BMP Inhibitor I, Compound C
6-[4-(2-Piperidin-1-yl-ethoxy)-phenyl)]-3-pyridin-4-yl-pyrrazolo[1,5-a]-pyrimidine dihydrochloride
References
1. Zhou, G., et al. 2001. J. Clin. Invest. 108: 1167-1174. PMID: 11602624
2. Kim, E.K., et al. 2004. J. Biol. Chem. 279: 19970-19976. PMID: 15028725
3. McCullough, L.D., et al., 2005. J. Biol. Chem. 280: 20493-20502. PMID: 15772080
4. Ramamurthy, S. and Ronnett, G.V. 2006. J. Physiol. 574: 85-93. PMID: 16690704
5. Yu, P.B., et al. 2008. Nat. Chem. Biol. 4: 33-41. PMID: 18026094
Product Details
Formula
C24H25N5O.2HCl
Molecular Weight

472.41

CAS Number

1219168-18-9

Purity

>99%

Solubility

DMSO, water

Stability and Storage

Stable at -20°C. Keep away from direct sunlight.