Garcinol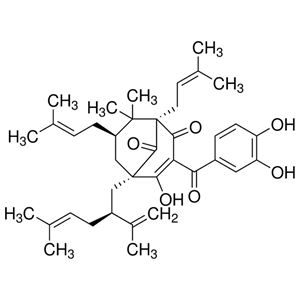 Exact Amount™
The mg quantity of material provided in the smallest pack size for this product is specified on the vial label to two decimal places. This reduces concentration variation and ensures reproducibility in your experiments.
Activity
Garcinol is a polyisoprenylated benzophenone derivative from the rind of Garcinia indica fruit and is a potent inhibitor of histone acetyltransferases p300 and PCAF in-vitro. p300, also known as E1A binding protein p300, regulates cell growth and division through interacting with numerous transcription factors, and the p53 associated trancriptional coactivator PCAF (P300/CBP-associated factor) plays a direct role in transcriptional regulation.
Effect
Garcinol predominantly down-regulates global gene expression in HeLa cells. Additional research shows that Garcinol exhibits anti-carcinogenic and anti-inflammatory properties through selectively suppressing Prostaglandin E2 synthesis and 5-lipoxygenase product formation. It promotes neurogenesis in corticol progenitor cells and contributes for ex-vivo expansion of human hematopoietic stem cells (hHSC).
Alternative Names
Camboginol
(1R,5R,7R)-3-(3,4-Dihydroxybenzoyl)-4-hydroxy-8,8-dimethyl-1,7-bis(3-methyl-2-buten-1-yl)-5-[(2S)-5-methyl-2-(1-methylethenyl)-4-hexen-1-yl]-Bicyclo[3.3.1]non-3-ene-2,9-dione
References
1. Nishino, T., et al. 2011. PLoS One. 6(9): e24298. PMID: 21931675
2. Weng, MS., et al. 2011. J Agric Food Chem. 59(3): 1031-1040. PMID: 21214247
Product Details
Formula
C38H50O6
Molecular Weight

602.80

CAS Number

78824-30-3

Purity

>98%

Solubility

DMSO, ethanol

Stability and Storage

Stable at -20°C. Keep away from direct sunlight.