GDC-0449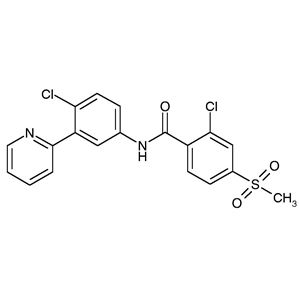 Exact Amount™
The mg quantity of material provided in the smallest pack size for this product is specified on the vial label to two decimal places. This reduces concentration variation and ensures reproducibility in your experiments.
Activity
GDC-0449 is a potent and specific Hedgehog signaling pathway inhibitor.
Effect
GDC-0449 targets the Hedgehog signaling pathway, blocking the activities of the Hedgehog-ligand cell surface receptors PTCH and/or SMO and suppressing Hedgehog signaling. GDC-0449 prevents multiple ATP-binding cassette (ABC) transporters. GDC-0449 prevents the growth of primary pancreatic xenografts without non-specifically inhibiting pancreatic cell proliferation.
Alternative Names
Vismodegib, HhAntag691
2-chloro-N-(4-chloro-3-(pyridin-2-yl)phenyl)-4-(methylsulfonyl)benzamide
References
1. Firestone, AJ. and Chen, JK. 2010. ACS Chem Biol. 5(1): 15-34. PMID: 20000447
2. An, SM., et al. 2013. Acta Pharmacol Sin. 34(6): 777-783. PMID: 23708555
Product Details
Formula
C19H14Cl2N2O3S
Molecular Weight

421.30

CAS Number

879085-55-9

Purity

>99%

Solubility

DMSO, ethanol

Stability and Storage

Stable at -20°C. Keep away from direct sunlight.