GDC-0941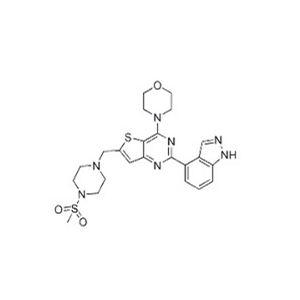 Exact Amount™
The mg quantity of material provided in the smallest pack size for this product is specified on the vial label to two decimal places. This reduces concentration variation and ensures reproducibility in your experiments.
Activity
GDC-0941 is a cell-permeable, selective small molecule that inhibits Class I phosphatidylinositide 3-kinase (PI3K).
Effect
GDC-0941 plays a vital role in diverse cellular functions such as cell growth and proliferation. This small molecule is deregulated in a number of conditions, including cancer.
Alternative Names
Pictilisib
2-(1H-indazol-4-yl)-6-((4-(methylsulfonyl)piperazin-1-yl)methyl)-4-morpholinothieno[3,2-d]pyrimidine
References
1. Gibbs, KD. Jr., et al. 2012. Cell Stem Cell. 10(2): 210-217. PMID: 22305570
2. Kanai, R., et al. 2011. Clin Cancer Res. 17(11): 3686-3696. PMID: 21505062
Product Details
Formula
C23H27N7O3S2
Molecular Weight

513.64

CAS Number

957054-30-7

Purity

>99%

Solubility

DMSO

Stability and Storage

Stable at -20°C. Keep away from direct sunlight.