Geldanamycin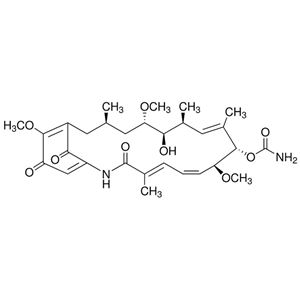 Exact Amount™
The mg quantity of material provided in the smallest pack size for this product is specified on the vial label to two decimal places. This reduces concentration variation and ensures reproducibility in your experiments.
Activity
Geldanamycin is a natural existing HSP90 (Heat Schock Protein 90) inhibitor, specifically disrupts glucocorticoid receptor (GR)/HSP association. The HSP90 chaperone is required for the activation of several families of eukaryotic protein kinases and nuclear hormone receptors, many of which are proto-oncogenic and play a prominent role in cancer.
Effect
Geldanamycin has antiproliferative and antitumor effects, as it binds to HSP90, inhibits the HSP90-mediated conformational maturation/refolding reaction. It interferes with cellular stress response. Geldanamycin decrease the expression of hypoxia inducible factor (HIF-1 alpha) in neural stem/progenitor cells.
Alternative Names
Geldanomycin, U-29135, NSC 122750
(4E,6Z,8S,9S,10E,12S,13R,14S,16R)-13-Hydroxy-8,14,19-trimethoxy-4,10,12,16-tetramethyl-3,20,22-trioxo-2-azabicyclo[16.3.1]docosa-1(21),4,6,10,18-pentaen-9-yl carbamate
References
1. Whitesell, L., et al. 1994. Proc Natl Acad Sci USA. 91(18): 8324-8328. PMID: 8078881
2. Xiong, L., et al. 2009. Cell Stress Chaperones. 14(2): 183-192. PMID: 18726712
3. Minuth, WW., et al. 2010. Adv Drug Deliv Rev. 62(7-8): 841-854. PMID: 20122975
Product Details
Formula
C29H40N2O9
Molecular Weight

560.64

CAS Number

30562-34-6

Purity

>99%

Solubility

DMSO

Stability and Storage

Stable at -20°C. Keep away from direct sunlight.