Go 6983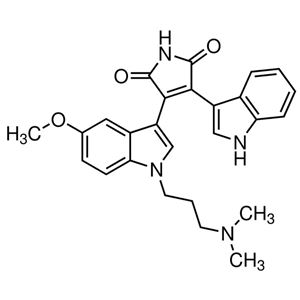 Exact Amount™
The mg quantity of material provided in the smallest pack size for this product is specified on the vial label to two decimal places. This reduces concentration variation and ensures reproducibility in your experiments.
Activity
Go 6983 is a protein kinase C (PKC) inhibitor.
Effect
Go 6983 inhibits intracellular Ca2+ accumulation, suggesting a mechanism for its vasodilator properties. The inhibition of PKC signaling is an efficient strategy to establish and maintain pluripotent rat embryonic stem cells and to facilitate reprogramming of rat embryonic fibroblasts to rat induced pluripotent stem cells.
Alternative Names
Goe 6983
1H-Pyrrole-2,5-dione, 3-[1-[3-(dimethylamino)propyl]-5-methoxy-1H-indol-3-yl]-4-(1H-indol-3-yl)-1H-pyrrole-2,5-dione
References
1. Young, LG., et al. 2005. Cardiovasc Drug Rev. 23(3): 255-272. PMID: 16252018
2. Chen, J., et al. 2005. Mol Pharmacol. 67(1): 152-162. PMID: 15496505
3. Rajendran, G., et al. 2013. J Biol Chem. 288(34): 24351-24362. PMID: 23846691
Product Details
Formula
C26H26N4O3
Molecular Weight

442.51

CAS Number

133053-19-7

Purity

>98%

Solubility

DMSO

Stability and Storage

Stable at -20°C. Keep away from direct sunlight.