GSK429286A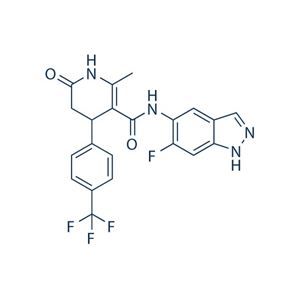 Exact Amount™
The mg quantity of material provided in the smallest pack size for this product is specified on the vial label to two decimal places. This reduces concentration variation and ensures reproducibility in your experiments.
Activity
GSK429286A is a cell-permeable, selective Rho-associated kinase (ROCK) inhibitor, active for ROCK1 and ROCK2. GSK429286A is a more selective ROCK2 inhibitor than the widely utilized ROCK inhibitor Y-27632 as assessed on kinase-specificity panel, and does not significantly inhibit LRRK2.
Effect
GSK429286A significantly inhibits rat aortic ring dilation and reduces mean arterial pressure in the spontaneously hypertensive rats (SHRs).
Alternative Names
GSK 429286, GSK-429286, dihydropyridone indazole
N-(6-fluoro-1H-indazol-5-yl)-2-methyl-6-oxo-4-(4-(trifluoromethyl)phenyl)-1,4,5,6-tetrahydropyridine-3-carboxamide
References
1. Nichols, RJ., et al. 2009. Biochem J. 424(1): 47-60. PMID: 19740074
2. Sharon-Frilling, R. and Shenk, T. 2014. Proc Natl Acad Sci USA. 111(12): E1140-1148. PMID: 24616524
Product Details
Formula
C21H16F4N4O2
Molecular Weight

432.37

CAS Number

864082-47-3

Purity

>98%

Solubility

DMSO

Stability and Storage

Stable at -20°C. Keep away from direct sunlight.