ID-8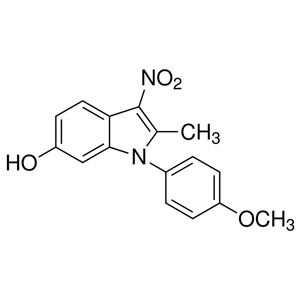 Exact Amount™
The mg quantity of material provided in the smallest pack size for this product is specified on the vial label to two decimal places. This reduces concentration variation and ensures reproducibility in your experiments.
Activity
ID-8 is a DYRK inhibitor.
Effect
ID-8 enables the long term expansion of embryonic stem cells (ESC). ESC treated with ID-8 in a serum-free medium were subsequently consistently differentiated into many cell types, including neurons, muscle cells and hepatocytes.
Alternative Names
ID 8
1-(4-Methoxyphenyl)-2-methyl-3-nitro-1H-indol-6-ol
References
1. Miyabayashi, T., et al. 2008. Biosci Biotechnol Biochem. 72(5): 1242-1248. PMID: 18460821
Product Details
Formula
C16H14N2O4
Molecular Weight

298.29

CAS Number

147591-46-6

Purity

>98%

Solubility

DMSO

Stability and Storage

Stable at -20°C. Keep away from direct sunlight.