IM-12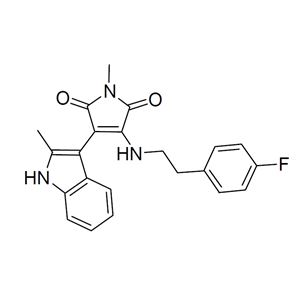 Exact Amount™
The mg quantity of material provided in the smallest pack size for this product is specified on the vial label to two decimal places. This reduces concentration variation and ensures reproducibility in your experiments.
Activity
IM-12 is a cell-permeable indolylmaleimide that acts as a Glycogen synthase kinase 3 beta (GSK-3 beta) inhibitor, activating downstream components of canonical Wnt signaling.
Effect
IM-12 significantly increases beta-catenin levels. IM-12 leads to TCF-induction and promotes neuronal differentiation in human neural progenitor cells by activating Wnt pathway. IM-12 when combined with other small molecules supports the self-renewal of naive human embryonic stem cells and maintenance of ground state pluripotency.
Alternative Names
GSK-3beta Inhibitor
3-(4-Fluorophenylethylamino)-1-methyl-4-(2-methyl-1H-indol-3-yl)-1H-pyrrole-2,5-dione
References
1. Schmole, AC., et al. 2010. Bioorg Med Chem. 18(18): 6785-6795. PMID: 20708937
2. Theunissen, TW. et al. 2014. Cell Stem Cell. 15(4): 471-487. PMID: 25090446
Product Details
Formula
C22H20FN3O2
Molecular Weight

377.41

CAS Number

1129669-05-1

Purity

>98%

Solubility

DMSO

Stability and Storage

Stable at -20°C. Keep away from direct sunlight.