Irinotecan Hydrochloride Trihydrate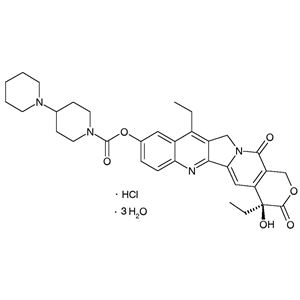 Irinotecan Hydrochloride Trihydrate
Exact Amount™
The mg quantity of material provided in the smallest pack size for this product is specified on the vial label to two decimal places. This reduces concentration variation and ensures reproducibility in your experiments.
Activity
Irinotecan hydrochloride trihydrate (CPT 11), a compound within the camptothecin family, is an inhibitor of Topo I (topoisomerase I) involved in cellular DNA replication and transcription. This compound is a prodrug which needs to be transformed by carboxylesterases to its active metabolite SN-38.
Effect
As a Topo I inhibitor, Irinotecan inhibits the religation step of the enzyme's normal action, inducing single stranded DNA breaks. These single stranded breaks are then converted to double-stranded breaks within the course of DNA replication which is reported to induce apoptosis or repair mechanisms as a result. Irinotecan has a therapeutic effect in malignant brain tumors, with increased efficacy when combined in neural stem cells therapies.
Alternative Names
Camptosar, Topotecin, Campto, Camptothecin 11, CPT-11, CPT 11, U-101440E, PNU-101440E, DQ-2805
(S)-4,11-diethyl-4-hydroxy-3,14-dioxo-3,4,12,14-tetrahydro-1H-pyrano[3',4':6,7]indolizino[1,2-b]quinolin-9-yl [1,4'-bipiperidine]-1'-carboxylate hydro
References
1. Goto, S., et al. 1996. Anticancer Res. 16(5A): 2507-2511. PMID: 8917343
2. Metz, MZ., et al. 2013. Stem Cells Transl Med. 2(12): 983-992. PMID: 24167321
3. Hong, SH., et al. 2013. Cancer Gene Ther. 20(12): 678-682. PMID: 24310061
Product Details
Formula
C33H38N4O6.HCl.3H2O
Molecular Weight

677.18

CAS Number

136572-09-3

Purity

>99%

Solubility

DMSO, water

Stability and Storage

Stable at -20°C. Keep away from direct sunlight.