NVP-BEZ235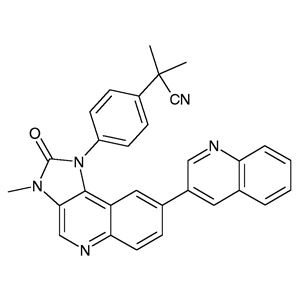 Activity
NVP-BEZ235 is a PI 3-kinase (PI3K) tyrosine kinase inhibitor and shows dual PI3K/mTOR inhibition. NVP-BEZ235 also inhibits ATR. However, NVP-BEZ235 has been shown to be poor inhibitory to Akt and PDK1.
Effect
NVP-BEZ235 shows high target specificity and demonstrates antiproliferative activity against tumor cell lines in animal models of cancer.
Alternative Names
BEZ235, Dactolisib
2-methyl-2-(4-(3-methyl-2-oxo-8-(quinolin-3-yl)-2,3-dihydroimidazo[4,5-c]quinolin-1-yl)phenyl)propanenitrile
References
1. Lyssiotis, CA., et al. 2011. Angew Chem Int Ed Engl. 50(1): 200-242. PMID: 21184400
2. Wang, WJ., et al. 2013. Acta Pharmacol Sin. 34(5): 681-690. PMID: 23603977
Product Details
Formula
C30H23N5O
Molecular Weight

469.54

CAS Number

915019-65-7

Purity

>99%

Solubility

DMSO

Stability and Storage

Stable at -20°C. Keep away from direct sunlight.