PD173074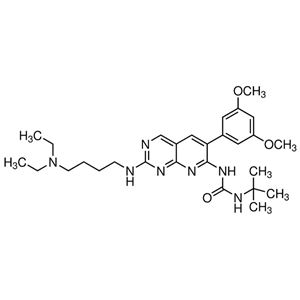 Exact Amount™
The mg quantity of material provided in the smallest pack size for this product is specified on the vial label to two decimal places. This reduces concentration variation and ensures reproducibility in your experiments.
Activity
The fibroblast growth factor receptors (FGFRs) are cell surface receptors with intrinsic tyrosine kinase activity, which is necessary for receptor activation and signal propagation. PD173074 is a potent and selective inhibitor of FGFR tyrosine kinase activity, blocking autophosphorylation of FGFR1 and FGFR3. However, poorly inhibits PDGFR and c-Src and has no effect on EGFR, InsR, MEK, or PKC.
Effect
PD173074 inhibits proliferation and differentiation of oligodendrocyte progenitors. PD173074 also blocks tumor growth in H510 and H69 SCLC xenograft models.
Alternative Names
PD 173074, PD-173074
N-[2-[[4-(Diethylamino)butyl]amino-6-(3,5-dimethoxyphenyl)pyrido[2,3-d]pyrimidin-7-yl]-N′-(1,1-dimethylethyl)urea
References
1. Mohammadi, M., et al. 1998. EMBO J. 17(20): 5896-5904. PMID: 9774334
2. Zaragosi, LE., et al. 2006. Stem Cells. 24(11): 2412-2419. PMID: 16840552
3. Ying, QL., et al. 2008. Nature. 453(7194): 519-523. PMID: 18497825
4. Pardo, OE. et al. 2010. Cancer Res. 69(22):8645-8651. PMID: 19903855
Product Details
Formula
C28H41N7O3
Molecular Weight

523.67

CAS Number

219580-11-7

Purity

>99%

Solubility

DMSO, ethanol

Stability and Storage

Stable at -20°C. Keep away from direct sunlight.