PD184352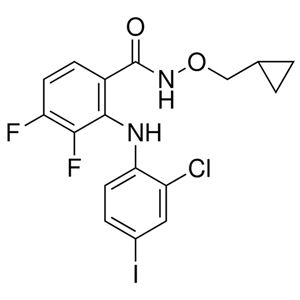 Exact Amount™
The mg quantity of material provided in the smallest pack size for this product is specified on the vial label to two decimal places. This reduces concentration variation and ensures reproducibility in your experiments.
Activity
PD184352 is a highly selective non-competitive inhibitor of MEK, a kinase upstream in the mitogen-activated protein kinase pathway (MAPK).
Effect
PD184352 has anti-cancer properties, suppresses the ERK pathway, and has been used along with other classes of inhibitors to establish embryonic stem cell (ESC) lines.
Alternative Names
PD 184352, PD-184352, CI-1040
2-(2-Chloro-4-iodo-phenylamino)-N-cyclopropylmethoxy-3,4-difluorobenzamide
References
1. Mattingly, RR., et al. 2006. J Pharmacol Exp Ther. 316(1): 456-465. PMID: 16239399
2. Zhang, XZ. 2010. Reprod Biomed Online. 21(1): 26-36. PMID: 20462797
3. Pellicano, F., et al. 2011. Leukemia. 25(7): 1159-1167. PMID: 21483442
Product Details
Formula
C17H14CIF2IN2O2
Molecular Weight

478.66

CAS Number

212631-79-3

Purity

>99%

Solubility

DMSO, ethanol

Stability and Storage

Stable at -20°C. Keep away from direct sunlight.