PIK-75 Hydrochloride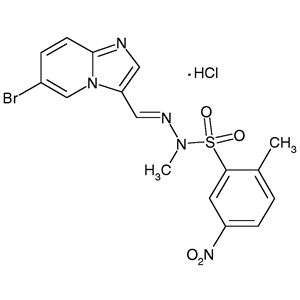 Exact Amount™
The mg quantity of material provided in the smallest pack size for this product is specified on the vial label to two decimal places. This reduces concentration variation and ensures reproducibility in your experiments.
Activity
PIK-75 is a cell-permeable selective inhibitor of PI 3-kinase p110alpha.
Effect
This molecule inhibits production of PIP2 and PIP3 in adipocytes, phosphorylation of Akt and also activation of mTORC1. It has been studied that PIK-75 significantly reduces leukemia burden and increases the survival of mice engrafted with human acute myeloid leukemia.
Alternative Names
PI3-Kinase α Inhibitor VIII
2-Methyl-5-nitrobenzenesulfonic acid 2-[(6-bromoimidazo[1,2-a]pyridin-3-yl)methylene]-1-methylhydrazide hydrochloride
References
1. Kingham, E. and Welham, M. 2009. J Cell Sci. 122:2311-2321. PMID: 19509054
2. Yi, YW., et al. 2013. Mol Carcinog. 52(9): 667-675. PMID: 22488590
3. Thomas, D., et al. 2013. Blood. 122(5): 738-748. PMID: 23775716
Product Details
Formula
C16H14BrN5O4S.HCl
Molecular Weight

488.74

CAS Number

372196-77-5

Purity

>99%

Solubility

DMSO

Stability and Storage

Stable at -20°C. Keep away from direct sunlight.