Plerixafor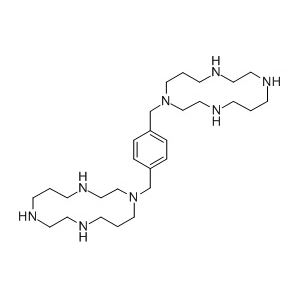 Exact Amount™
The mg quantity of material provided in the smallest pack size for this product is specified on the vial label to two decimal places. This reduces concentration variation and ensures reproducibility in your experiments.
Activity
Plerixafor is a bicyclam molecule that antagonizes the binding of the chemokine stromal cell-derived factor-1 (SDF-1) to its cognate receptor CXCR4. The CXCR4 alpha-chemokine receptor and one of its ligands, SDF-1, are important in hematopoietic stem cell homing to the bone marrow and in hematopoietic stem cell quiescence.
Effect
Plerixafor is one of the most efficient bone marrow stem cell mobilizers. Plerixafor results in the rapid and reversible mobilization of hematopoietic stem cells (HSC) into the peripheral circulation and is synergistic when combined with G-CSF.
Alternative Names
AMD3100
1,1'-(1,4-Phenylenebis(methylene))bis-1,4,8,11-tetraazacyclotetradecane
References
1. Uy, GL. 2008. Expert Opin Biol Ther. 8(11): 1797-1804. PMID: 18847313
2. Kim, JH., et al. 2012. Radiat Res. 178(3): 202-206. PMID: 22799631
3. Langle, D., et al. 2014. ACS Chem Biol. 9(1): 57-71, PMID: 24372447
4. Lee, SY., et al. 2014. Amyloid. epub. PMID: 24779777
Product Details
Formula
C28H54N8
Molecular Weight

502.78

CAS Number

110078-46-1

Purity

>98%

Solubility

Ethanol

Stability and Storage

Stable at -20°C. Keep away from direct sunlight.