PP1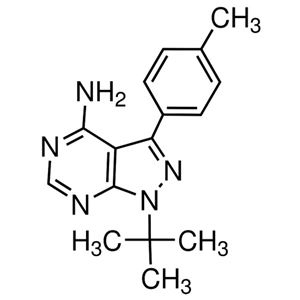 Exact Amount™
The mg quantity of material provided in the smallest pack size for this product is specified on the vial label to two decimal places. This reduces concentration variation and ensures reproducibility in your experiments.
Activity
PP1 is a selective and potent Src-family tyrosine kinase inhibitor. PP1 studies have proved its ability to potently inhibit Lck and Fyn (FynT), IL-2 gene activation in T lymphocytes, and anti-CD3-induced protein tyrosine phosphorylation. Research indicates that PP1 effectively blocks LPA and EGF-enhanced tyrosine phosphorylation, MAPK activation downstream of EGFR, Rsk-1 (p90RSK) activation by H2O2, Kit and Bcr-Abl tyrosine kinases, and degrades RETMEN2A and RETMEN2B oncoproteins via proteosomal targeting. PP1 and its analog, PP2, are powerful inhibitors of TGF-β-induced cell migration and invasion in-vitro.
Effect
PP1 inhibits anti-CD3-induced T cell tyrosine phosphorylation, TcR-induced T cell proliferation, and IL-2 gene induction. PP1 has been demonstrated to reduce the expression of vascular endothelial growth factor (VEGF), protect the blood-brain barrier, reduce brain edema immediately after subarachnoid hemorrhage, and offer cerebral protection against stroke. It prevents metastatic spread in late-stage pancreatic ductal adenocarcinoma and non-small cell lung cancer.
Alternative Names
AGL-1872, PP 1
1-tert-butyl-3-(4-methylphenyl)pyrazolo[3,4-d]pyrimidin-4-amine
References
1. Hanke, JH., et al. 1996. J Biol Chem. 271(2): 695-701. PMID: 8557675
2. Carlomagno, F., et al. 2002. Cancer Res. 62(4): 1077-1082. PMID: 11861385
3. Zhang, Y., et al. 2012. Genes Dev. 26(1): 69-81. PMID: 22215812
4. Ma, T., et al. 2013. Circ Res. 112(3): 562-574. PMID: 23371904
Product Details
Formula
C16H19N5
Molecular Weight

281.36

CAS Number

172889-26-8

Purity

>99%

Solubility

DMSO

Stability and Storage

Stable at -20°C. Keep away from direct sunlight.