PTK787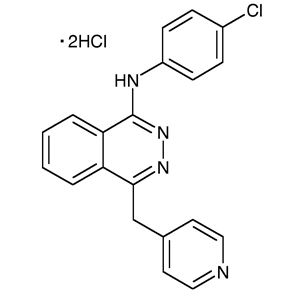 Exact Amount™
The mg quantity of material provided in the smallest pack size for this product is specified on the vial label to two decimal places. This reduces concentration variation and ensures reproducibility in your experiments.
Activity
PTK787 is an inhibitor of VEGFR2/KDR, less potent against VEGFR1/Flt-1, 18-fold against VEGFR3/Flt-4. PTK787 also inhibits Flk, c-Kit and PDGFR-β.
Effect
PTK787 inhibits VEGFR-dependent tumor angiogenesis and EGFR- and RET-dependent tumor cell proliferation and survival. It shows the anti-proliferation effect by inhibiting thymidine incorporation induced by VEGF in HUVECs.
Alternative Names
Vatalanib, CGP-79787, ZK222584
N-(4-Chlorophenyl)-4-(4-pyridinylmethyl)-1-phthalazinamine dihydrochloride
References
1. Zangi, L., et al. 2013. Nat Biotechnol. 31(10): 898-907. PMID: 24013197
2. Arbab, AS. 2012. Histol Histopathol. 27(5): 549-557. PMID: 22419019
3. Brander, D., et al. 2013. Leuk Lymphoma. 54(12): 2627-2630. PMID: 23488610
Product Details
Formula
C20H15ClN4.2HCl
Molecular Weight

419.73

CAS Number

212141-51-0

Purity

>99%

Solubility

DMSO, water

Stability and Storage

Stable at -20°C. Keep away from direct sunlight.