Rapamycin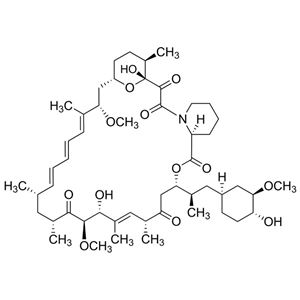 Exact Amount™
The mg quantity of material provided in the smallest pack size for this product is specified on the vial label to two decimal places. This reduces concentration variation and ensures reproducibility in your experiments.
Activity
Rapamycin is a specific inhibitor of mTOR (mammalian target of Rapamycin). It forms a complex with FKBP12 that binds to and inhibits mTOR. It also exhibits selective signal blocking leading to the activation of p70/85 S6 kinase, which is potentially due to the inhibition of FRAP autophosphorylation or protein kinase activity.
Effect
Rapamycin is a potent immunosuppressant and it has anticancer activity. It induces autophagy in yeast and mammalian cell lines. It is unique in its ability to inhibit lymphokine induced cell proliferation at the G1 and S phase as well as an irreversible cellular arrest at the G1 phase in S. cerevisae cells. Angiogenesis inhibition is also exhibited, possibly through the inhibition of the Akt pathway. Rapamycin has been used in some endoderm differentiation studies from human embryonic stem cells (hESC).
Alternative Names
AY-22989, LCP-Siro, RAPA, Rapamune, Sirolimus, SILA 9268A 23,27-Epoxy-3H-pyrido[2,1-c][1,4]oxaazacyclohentriacontine
(3S,6R,7E,9R,10R,12R,14S,15E,17E,19E,21S,23S,26R,27R,34aS)-9,10,12,13,14,21,22,23,24,25,26,27,32,33,34,34a-Hexadecahydro-9,27-di
References
1. Mita, MM., et al. 2003. Cancer Biol Ther. 2(4 Suppl 1): S169-177. PMID: 14508096
2. Huang, S., et al. 2003. Cancer Biol Ther. 2(3): 222-232. PMID: 12878853
3. Tahamtani, Y., et al. 2013. Stem Cells Dev. 22(9): 1419-1432. PMID: 23249309
Product Details
Formula
C51H79NO13
Molecular Weight

914.17

CAS Number

53123-88-9

Purity

>99%

Solubility

DMSO, ethanol

Stability and Storage

Stable at -20°C. Keep away from direct sunlight.