Reboxetine Mesylate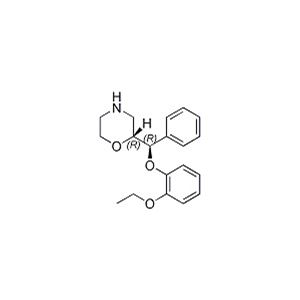 Exact Amount™
The mg quantity of material provided in the smallest pack size for this product is specified on the vial label to two decimal places. This reduces concentration variation and ensures reproducibility in your experiments.
Activity
Reboxetine is a potent and selective norepinephrine reuptake inhibitor. It displays more than 1000-fold selectivity over alpha-adrenoceptors, 5-HT, dopamine and muscarinic ACh receptors.
Effect
Reboxetine stimulates neural stem cell (NSC) expansion.
Alternative Names
Edronax, Vestra, Morpholine
(2R*)-2-[(R*)-(2-Ethoxyphenoxy)phenylmethyl]morpholine mesylate
References
1. Miller, DK., et al. 2002. J Pharmacol Exp Ther. 302(2): 687-695. PMID: 12130733
2. Nasuda, T., et al. 2012. Prog Neuropsychopharmacol Biol Psychiatry. 36(1): 44-51. PMID: 21914456
3. Langle, D., et al. 2014. ACS Chem Biol. 9(1): 57-71. PMID: 24372447
Product Details
Formula
C19H23NO3.CH3SO3H
Molecular Weight

409.5

CAS Number

98769-84-7

Purity

>98%

Solubility

DMSO, water

Stability and Storage

Stable at -20°C. Keep away from direct sunlight.