Reversine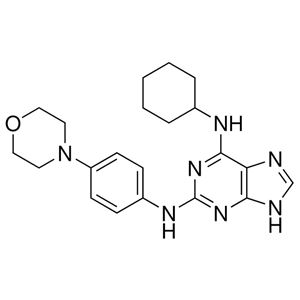 Exact Amount™
The mg quantity of material provided in the smallest pack size for this product is specified on the vial label to two decimal places. This reduces concentration variation and ensures reproducibility in your experiments.
Activity
Reversine is a novel class of ATP-competitive Aurora kinase inhibitors. Reversine inhibits the phosphorylation of histone H3, a direct downstream target of Aurora kinases. It acts as a selective A3 adenosine receptor antagonist. Reversine functions as a dual inhibitor of MEK1 and nonmuscle myosin II heavy chain. It also acts as an ATP-competitive, reversible and selective inhibitor of ARK-1, ARK-2, and ARK-3.
Effect
Reversine is the first organic molecule that has been demonstrated to reverse the cellular differentiation process. It is shown to induce mouse C2C12 myoblast cells to become multipotent mesenchymal progenitor cells, that could then be induced by osteogenic or adipogenic medium to re-differentiate into bone or adipose precursors, respectively. Moreover, reversine has been shown to promote cell reprogramming and induce dedifferentiation of multiple terminally differentiated mesodermal origin cells, and then differentiate into other cell types within mesodermal lineages as well as neuroectodermal.
Alternative Names
2-(4-Morpholinoanilino)-6-cyclohexylaminopurine N'-cyclohexyl-N-(4-morpholinophenyl)-7H-purine-2,6-diamine
References
1. Chen, S., et al. 2004. J Am Chem Soc. 126(2): 410-411. PMID: 14719906
2. Hu, X., et al. 2012. Zhongguo Xiu Fu Chong Jian Wai Ke Za Zhi. 26(9): 1126-1129. PMID: 23057363
3. Lv, X., et al. 2012. J Cell Biochem. 113(12): 3629-3642. PMID: 22821411
Product Details
Formula
C21H27N7O
Molecular Weight

393.49

CAS Number

656820-32-5

Purity

>98%

Solubility

DMSO

Stability and Storage

Stable at -20°C. Keep away from direct sunlight.