RG108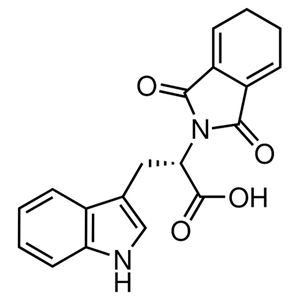 Exact Amount™
The mg quantity of material provided in the smallest pack size for this product is specified on the vial label to two decimal places. This reduces concentration variation and ensures reproducibility in your experiments.
Activity
RG108 is a non-nucleoside DNA methyltransferase (DMNT) inhibitor. RG108 effectively blocked DNA methyltransferases in-vitro and does not cause covalent enzyme trapping in human cell lines. RG108 significantly reduces the methylation of genomic DNA in cells at 10 µM without detectable toxicity, distinguishing it from nucleoside-based inhibitors like 5-azacytidine. Through these actions, RG108 demethylates and reactivates epigenetically silenced tumor suppressor genes.
Effect
RG108 inhibits human tumor cell line (HCT116, NALM-6) proliferation and increased doubling time in culture.
Alternative Names
RG 108, DNA Methyltransferase Inhibitor
N-Phthalyl-L-tryptophan
References
1. Brueckner, B., et al. 2005. Cancer Res. 65(14): 6305-6311. PMID: 16024632
2. Stresemann, C., et al. 2006. Cancer Res. 66(5): 2794-2800. PMID: 16510601
3. Schirrmacher, E., et al. 2006. Bioconjug Chem.17(2): 261-266. PMID: 16536454
Product Details
Formula
C19H14N2O4
Molecular Weight

334.33

CAS Number

48208-26-0

Purity

>98%

Solubility

DMSO, ethanol

Stability and Storage

Stable at -20°C. Keep away from direct sunlight.