Rosiglitazone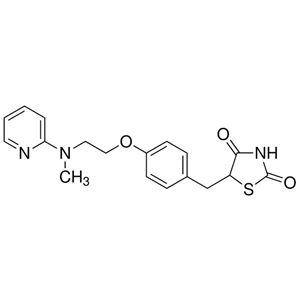 Activity
Rosiglitazone is a potent and selective agonist for PPAR gamma (Peroxisome proliferator-activated receptor). PPAR gamma plays a functional role in adipogenesis, it belongs to a group of nuclear receptor proteins that are essential to the regulation of cellular differentiation, development and metabolism. It activates luciferase-based expression constructs PPAR gamma1 and PPARgamma2.
Effect
Rosiglitazone is antidiabetic, working as an insulin sensitizer by binding to the PPAR gamma receptors in fat cells and making the cells more responsive to insulin. Rosiglitazone induced adipocyte differentiation in pluripotent C3H10T1/2 stem cells. It also significantly increased the differentiation of multinucleated osteoclasts.
Alternative Names
BRL 49653
5-[[4-[2-(Methyl-2-pyridinylamino)ethoxy]phenyl]methyl]-2,4-thiazolidinedione
References
1. Garcia-Ruiz, I., et al. 2007. Hepatology. 46(2): 414-423. PMID: 17654601
2. Zhang, XZ. 2010. Reprod Biomed Online. 21(1): 26-36. PMID: 20462797
3. Lyssiotis, Ca., et al. 2011. Angew Chem Int Ed Engl. 50(1): 200-242. PMID: 21184400
4. Wu, H., et al. 2013. J Cell Biochem. 114(9): 1969-1977. PMID: 23494891
Product Details
Formula
C18H19N3O3S
Molecular Weight

357.43

CAS Number

122320-73-4

Purity

>98%

Solubility

DMSO

Stability and Storage

Stable at -20°C. Keep away from direct sunlight.