SAHA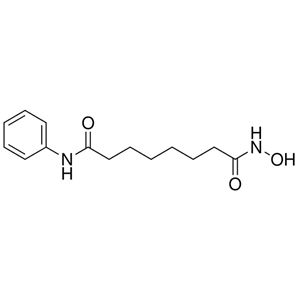 Activity
SAHA (suberoylanilide hydroxamic acid) is a potent, reversible pan-histone deacetylase (HDAC) inhibitor. It inhibits both class I and class II HDACs.
Effect
Experiments suggest that SAHA causes morphological changes, such as enlargement and flattening of the cytoplasm, resulting in growth inhibition. SAHA alters gene transcription and induces cell cycle arrest and/or apoptosis in a wide variety of transformed cells. It suppresses cell growth in a range of cancer cell lines, induces apoptosis in cutaneous T-cell lymphoma cells in-vitro. This small molecule improves reprogramming efficiency after transduction of iPSC transcription factors in mouse embryonic fibroblasts.
Alternative Names
MK-0683, Vorinostat, Suberoylanilide Hydroxamic Acid,Suberanilohydroxamic Acid, Zolinza
N-Hydroxy-N'-phenyloctanediamide
References
1. Butler, LM., et al. 2000. Cancer Res. 60(18): 5165-5170. PMID: 11016644
2. Huangfu, D., et al. 2008. Nat Biotechnol. 26(7): 795-797. PMID: 18568017
3. Zhang, Y., et al. 2012. J Cell Sci. 125(Pt 23): 5609-5620. PMID: 23420199
4. Ma, T., et al. 2013. Circ Res. 112(3): 562-574. PMID: 23371904
Product Details
Formula
C14H20N2O3
Molecular Weight

264.32

CAS Number

149647-78-9

Purity

>99%

Solubility

DMSO, ethanol

Stability and Storage

Stable at -20°C. Keep away from direct sunlight.