SB590885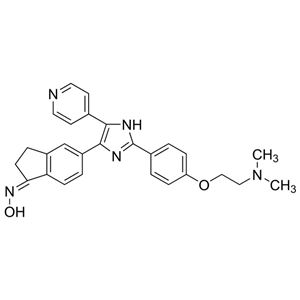 Exact Amount™
The mg quantity of material provided in the smallest pack size for this product is specified on the vial label to two decimal places. This reduces concentration variation and ensures reproducibility in your experiments.
Activity
SB590885 is another selective small-molecule inhibitor of the B-Raf kinase. It has been used to overcome the dependence of MAPK signaling and tumor cell growth on BRaf kinase activity. The inhibition of MAP kinase is one of the vital ways to get rid of un-wanted tumor growth. SB590885 also act as an angiogenesis inhibitor and it helps in the research studies of different important kinase pathways.
Effect
In melanoma and colorectal cancer cell lines with B-Raf V600E mutation, an effective inhibition of cell proliferation was achieved by using SB590885 at concentrations that blocked ERK phosphorylation.
Alternative Names
SB 590885, SB-590885
(E)-5-(2-(4-(2-(dimethylamino)ethoxy)phenyl)-4-(pyridin-4-yl)-1H-imidazol-5-yl)-2,3-dihydroinden-1-one oxime
References
1. Takle, AK., et al. 2008. Bioorg Med Chem Lett. 18(15): 4373-4376. PMID: 18621524
2. Ahnstedt, H., et al. 2011. BMC Neuroscience. 12: 5. PMID: 21223556
3. Theunissen, T. W., et al. 2014. Cell Stem Cell. 15: 1-17. DOI: http://dx.doi.org/10.1016/j.stem.2014.07.002
Product Details
Formula
C27H27N5O2
Molecular Weight

453.54

CAS Number

405554-55-4

Purity

>98%

Solubility

DMSO

Stability and Storage

Stable at -20°C. Keep away from direct sunlight.