Sorafenib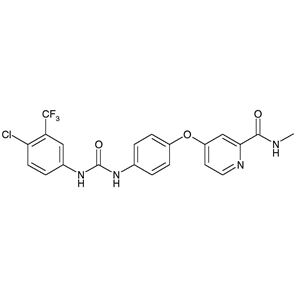 Activity
Sorafenib is a multikinase inhibitor with activity against Raf kinase and several receptor tyrosine kinases, including vascular endothelial growth factor receptor 2 (VEGFR2), platelet-derived growth factor receptor (PDGFR), FLT3, Ret, and c-Kit. It suppresses ERK phosphorylation. It also induces the phosphorylation of PKA.
Effect
Sorafenib has anti-tumor activity in HCC models may be attributed to inhibition of tumor angiogenesis (VEGFR and PDGFR) and direct effects on tumor cell proliferation/survival (Raf kinase signaling-dependent and signaling-independent mechanisms).
Alternative Names
Bay 43-9006, Nexavar
4-[4-[[4-chloro-3-(trifluoromethyl)phenyl]carbamoylamino]phenoxy]-N-methyl-pyridine-2-carboxamide
References
1. Liu, L., et al. 2006. Cancer Res. 66(24): 11851-11858. PMID: 17178882
2. Aleman, JO., et al. 2014. Endocr Relat Cancer. 21(3): R247-259. PMID: 24478055
3. Wurth, R., et al. Biomed Res Int. 2014: 126586. PMID: 24527434
Product Details
Formula
C21H16ClF3N4O3
Molecular Weight

464.82

CAS Number

284461-73-0

Purity

>99%

Solubility

DMSO, ethanol

Stability and Storage

Stable at -20°C. Keep away from direct sunlight.