Stauprimide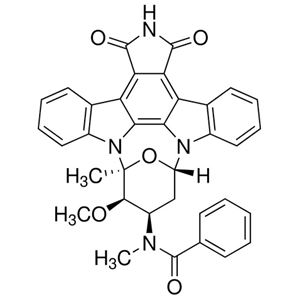 Exact Amount™
The mg quantity of material provided in the smallest pack size for this product is specified on the vial label to two decimal places. This reduces concentration variation and ensures reproducibility in your experiments.
Activity
Stauprimide is an indolocarbazole semi-synthetic small molecule. Stauprimide inhibits the nuclear localization of NME2, blocking and downregulating c-Myc expression. The expression of c-Myc is crucial for embryonic stem cell (ESC) self-renewal, and intervention by Stauprimide allows for more efficient lineage-specific differentiation. NME2 is also indicated to be upregulated in certain cancers, indicating further application for the blocking action of this small molecule.
Effect
Stauprimide may be used to study the signaling involved in differentiation of ESC. It increased definitive endodermal markers but not markers for visceral/parietal endoderm or mesoderm. Stauprimide-differentiated cells could be further differentiated into hepatocytes. It also enabled differentiation into other cell lineages under varying differentiation conditions, including neurons, hematopoietic mesoderm, beating cardiac myocytes, and skeletal muscle.
Alternative Names
N-Benzoyl-7-oxostaurosporine
[9S-(9α,10β,11β,13α)]-N-(2,3,10,11,12,13-Hexahydro-10-methoxy-9-methyl-1,3-dioxo-9,13-epoxy-1H,9H-diindolo[1,2,3-gh:3',2',1'-lm]pyrrolo[3,4-j][1,7]benzodiazonin-11-yl)-N-methylbenzamide
References
1. Zhu, S., et al. Cell Stem Cell. 2009 May 8;4(5):416-26. PMID: 19427291
2. Tahamtani, Y., et al. Stem Cells Dev. 2013 May 1;22(9):1419-32. PMID: 23249309
3. Tahamtani, Y., et al. Cell J. 2014 Feb 3;16(1):63-72. PMID: 24518969
Product Details
Formula
C35H28N4O5
Molecular Weight

584.62

CAS Number

154589-96-5

Purity

>99%

Solubility

DMSO

Stability and Storage

Stable at -20°C. Keep away from direct sunlight.