StemRegenin 1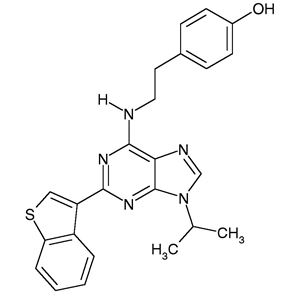 Exact Amount™
The mg quantity of material provided in the smallest pack size for this product is specified on the vial label to two decimal places. This reduces concentration variation and ensures reproducibility in your experiments.
Activity
StemRegenin 1 is an AhR inhibitor. StemRegenin 1 induces CD34+ cell expansion by binding and antagonizing AhR.
Effect
StemRegenin 1 treatment accelerates the proliferation of CD34+ cells. Sequential co-culture with BMP-4, PGE2, and StemRegenin 1 leads to robust Macaca nemestrina iPSC hematopoietic progenitor cell formation. Culture of mPB CD34+ cells with cytokines plus StemRegenin 1 increases the number of CD34+, CD133+ and CD90+ hematopoietic stem and progenitor cell populations compared to control cells. StemRegenin 1 promotes human plasmacytoid and myeloid dendritic cell development from CD34+ hematopoietic progenitor cells.
Alternative Names
SR1
4-[2-[[2-benzo[b]thien-3-yl-9-(1-methylethyl)-9H-purin-6-yl]amino]ethyl]-phenol
References
1. Gao, H., et al. 2012. J Biol Chem. 287(35): 29979-29987. PMID: 22791709
2. Gori, JL., et al. 2012. Blood. 120(13): e35-44. PMID: 22898598
3. Thordardottir, S., et al. 2014. Stem Cells Dev. 23(9): 955-967. PMID: 24325394
Product Details
Formula
C24H23N5OS
Molecular Weight

429.54

CAS Number

1227633-49-9

Purity

>98%

Solubility

DMSO

Stability and Storage

Stable at -20°C. Keep away from direct sunlight.