SU5402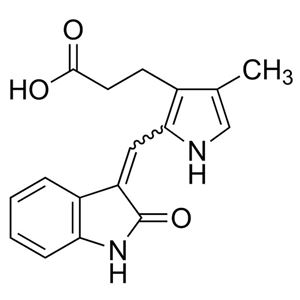 Exact Amount™
The mg quantity of material provided in the smallest pack size for this product is specified on the vial label to two decimal places. This reduces concentration variation and ensures reproducibility in your experiments.
Activity
SU5402 is a potent and selective vascular endothelial growth factor receptor (VEGFR) and fibroblast growth factor receptor (FGFR) inhibitor. Multiple myeloma studies suggest that SU5402 inhibits FGFR3 phosphorylation in-vitro. Additionally, SU5402 has been observed to inhibit IL-1 beta-induced MAPK activity.
Effect
SU5402 is used in an embryonic stem cells (ESC) culture method with three inhibitors (3i: SU5402 for FGFR, PD184352 for ERK, and CHIR99021 for GSK3). It has been showed that this 3i method is extremely instrumental in establishing and culturing germline-competent ESC. It inhibits embryonic left-right determination and exhibits potent anticancer activity in-vitro and in-vivo.
Alternative Names
SU-5402
2-[(1,2-Dihydro-2-oxo-3H-indol-3-ylidene)methyl]-4-methyl-1H-pyrrole-3-propanoic acid
References
1. Sun, L., et al. 1999. J Med Chem. 42(25): 5120-5130. PMID: 10602697
2. Tanaka, Y., et al. 2005. Nature. 435(7039): 172-177. PMID: 15889083
3. Kiyonari, H., et al. 2010. Genesis. 48(5): 317-327. 20162675
4. Hirabayashi, M., et al. 2013. Transgenic Res. 22(2): 411-416. PMID: 22875289
Product Details
Formula
C17H16N2O3
Molecular Weight

296.32

CAS Number

215543-92-3

Purity

>98%

Solubility

DMSO

Stability and Storage

Stable at -20°C. Keep away from direct sunlight.