SU6668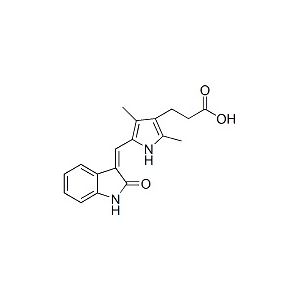 Exact Amount™
The mg quantity of material provided in the smallest pack size for this product is specified on the vial label to two decimal places. This reduces concentration variation and ensures reproducibility in your experiments.
Activity
SU6668 is an ATP-competitive PDGFR, Flk-1/KDR and FGFR inhibitor. It presents little activity against IGF-1R, Met, Src, Lck, Zap70, Abl and CDK2. It does not inhibit EGFR.
Effect
SU6668 inhibits proliferation of HUVEC and NIH3T3 cells in-vitro and induces >75% growth inhibition against a broad range of tumor types. SU6668 shows antiangiogenic, anti-inflammatory, antimetastatic and proapototic activity and is orally active.
Alternative Names
TSU-68, Orantinib
(Z)-3-(2,4-dimethyl-5-((2-oxoindolin-3-ylidene)methyl)-1H-pyrrol-3-yl)propanoic acid
References
1. Sun, L., et al. 1999. J Med Chem. 42(25): 5120-5130. PMID: 10602697
2. Piirsoo, A., et al. 2014. Biochim Biophys Acta. 2014 Apr;1843(4):703-14. PMID: 24418624
Product Details
Formula
C18H18N2O3
Molecular Weight

310.35

CAS Number

252916-29-3

Purity

>99%

Solubility

DMSO

Stability and Storage

Stable at -20°C. Keep away from direct sunlight.