Sunitinib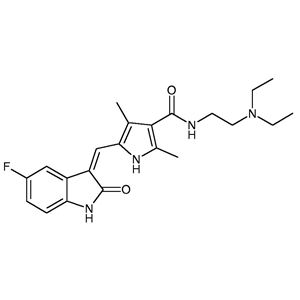 Activity
Sunitinib is a multi-targeted RTK inhibitor targeting VEGFR2 (Flk-1) and PDGFR beta. It also inhibits c-Kit. Sunitinib inhibits cellular receptor phosphorylation of FLT3, RET and CSF-1R.
Effect
Sunitinib has been shown to impinge on the osteoblast differentiation process in-vitro. It exhibits antiangiogenic and antitumor activity in multiple xenograft models.
Alternative Names
SU-11248, Sutent, PHA-290940AD, PNU-290940AD
N-[2-(Diethylamino)ethyl]-5-[(Z)-(5-fluoro-1,2-dihydro-2-oxo-3H-indol-3-ylidene)methyl]-2,4-dimethyl-1H-pyrrole-3-carboxamide
References
1. Hersey, P., et al. 2009. Ann Oncol. 20 Suppl 6: vi35-40. PMID: 19617296
2. Fernandez-Fuente, G., et al. 2014. Mol Cancer Ther. PMID: 24723451
3. Alemán, JO., et al. 2014. Endocr Relat Cancer. 21(3): R247-59. PMID: 24478055
Product Details
Formula
C22H27FN4O2
Molecular Weight

398.47

CAS Number

557795-19-4

Purity

>99%

Solubility

DMSO

Stability and Storage

Stable at -20°C. Keep away from direct sunlight.