Thiazovivin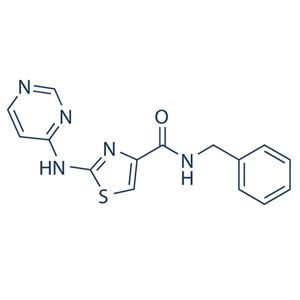 Exact Amount™
The mg quantity of material provided in the smallest pack size for this product is specified on the vial label to two decimal places. This reduces concentration variation and ensures reproducibility in your experiments.
Activity
Thiazovivin is a selective, cell permeable small molecule that directly inhibits Rho-associated kinase.
Effect
Thiazovivin protects human embryonic stem cells (hESC) in the absence of ECM by regulating E-cadherin mediated cell-cell interaction. Thiazovivin also promotes single cell passage of human pluripotent cells.
Alternative Names
N-Benzyl-[2-(pyrimidin-4-yl)amino]t­hiazole-4-carboxamide
References
1. Xu, Y., et al. 2010. Proc Natl Acad Sci U S A. 107(18): 8129-8134. PMID: 20406903
2. Hu, K., et al. 2011. Blood. 117(14): e109-119. PMID: 21296996
3. Lin, T., et al. 2009. Nat Methods. 6(11): 805-808. PMID: 19838168
Product Details
Formula
C15H13N5OS
Molecular Weight

311.36

CAS Number

1226056-71-8

Purity

>98%

Solubility

DMSO

Stability and Storage

Stable at -20°C. Keep away from direct sunlight.